Camping and Wildlife Safety

Planning an overnight stay in the park? Camping can be a great way to truly experience the park. There is a lot of wildlife here, and night is a good time to see or hear many of our wild creatures. Proper precautions can keep you safe and keep unwanted animals out of your tent.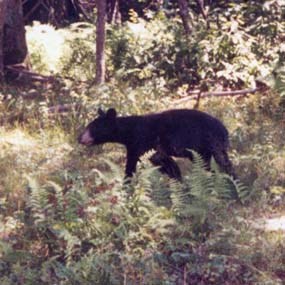 Safety tips:
Always keep a clean camp.
Never leave food lying out.
Never dump food scraps or other smelly stuff near your camping area.
Never bring food in your tent.
Lock food, trash, and scented items in a vehicle when not in use.
If you are backpacking or boating and do not have a vehicle, food should be hung in a tree out of reach of animals and away from your tent.
Use designated camping areas.
Keep your sleeping area, tent and sleeping bag free of food and odors.
Dispose of trash in bear resistant trash cans.
Keep a safe distance from all wildlife.
Never feed wild animals! It is dangerous to both you and the animal.
Always keep pets on a leash.
Black bears are occasionally encountered in the park, so be aware. You are most likely to run into raccoons or skunks trying to get your food or making a lot of noise trying to get into a trash can.
If you see a bear:
Remain calm. Do not run.
Enjoy the sighting. Most visitors never get the chance to see a bear.
Keep a safe distance (100 yards or more).
If the bear approaches, scare it away with loud shouting or by throwing rocks or sticks towards it.
Report sightings to a park ranger.
Last updated: December 5, 2017