Backpacking

Though there are nearly 100 miles of trails in this park, most trails are short and best suited for day hikes. Historic site considerations, very steep terrain, and private property within park boundaries can make planning a backpacking trip challenging. Trails best suited for overnight backpacking trips at New River Gorge National Park and Preserve include:
Glade Creek Trail

Kates Plateau Trail

Polls Plateau Trail
Regulations:
Here are additional regulations related to backpacking.Camping is allowed on the riverbanks of the New and Gauley Rivers on NPS-owned lands so long as there is no resource damage.Camping is prohibited within 100 feet of any trail, trailhead, park structures, historic ruins, developed day use area, water source, river access areas, and rivers or streams. (Leave No Trace guidelines recommend 200 feet.)

Camping is prohibited in the following areas:
within 300 feet of any clifftop or cliff bottom

helispot near Burnwood

within the Kaymoor area (Arrowhead Trail parking north to Butcher Branch)

Nuttallburg historic areas

Fern Creek and Beauty Mountain (from Workman Road to the North, through Short Creek and ending at the Beauty Mountain Electrical Substation)

Keeney's Creek area

Grandview Top

Camp Brookside Island (unless approved by the Superintendent through a special use permit)

The Pines at Gauley Tailwater (Gauley River National Recreation Area)

Anywhere within Bluestone National Scenic River.
In undeveloped backcountry areas group size is limited to eight people and two tents. Stay limit is 14 days.Campfires are allowed at backcountry campsites and must be contained within a fire pan or fire ring.Before leaving a campsite, all fires will be doused with enough water to extinguish all flames, embers or otherwise lighted material. Sand, dirt or other materials should not be used to bury the fire to remove the oxygen supply.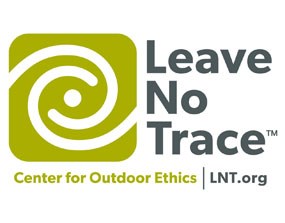 Additional Leave No Trace tips for backpackers.
Check current campfire regulations.

Use a light-weight stove for cooking and enjoy a lantern for light.

Repackage food to minimize waste.

Store food and trash securely.

To wash yourself or your dishes, carry water 200 feet away from waterways.

Good campsites are found, not made. Altering a site is not necessary. Use the durable surfaces.
Last updated: November 22, 2021