African American Life in a Coal Camp: Nuttallburg

You live in a company house. You go to a company school.
You work for this company according to the company rules.
You all drink company water and all use company lights.
The company preacher teaches us what the company thinks is right.
Carl Sandburg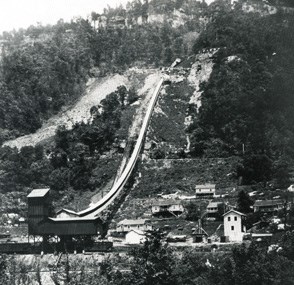 In the late 1800s, coal became King in West Virginia. Over a sixty-year period, hundreds of coal mines were opened throughout southern West Virginia. To dig the coal, thousands of native Appalachians, African Americans, and immigrants from Europe migrated to the coal fields to work in the mines. To support the mining operations and their workers, "coal camps" became as numerous as the coal mines. Company towns, or "coal camps" as they were commonly known, were built and owned by the coal companies themselves. They provided miners and their families a place to live, a place to buy goods and services, as well as opportunities for personal and recreational activities. In 1930, there were nearly 500 coal company towns in West Virginia.
The vast majority of African Americans who migrated to southern West Virginia found new lives in coal company towns. These mining camps were favored by black migrants because jobs were there. Camps also provided available and affordable housing. The 1900 U.S. census shows that a majority of residents in many of the coal camps were African American. Black miners living and working in mining camps like Nuttallburg, Hawks Nest, and Stonecliff made up over 55 percent of the population.
The Nuttallburg mine and company town provides a fine example of an early New River Gorge coal mining operation. John Nuttall, an immigrant from England, purchased land along the New River and founded the Nuttallburg Coal & Coke Company. He built a company town along the north side of the New River near the mouth of Short Creek. In 1900, most of the African American men in Nuttallburg worked in the mine. There were black workers that also worked for the railroad and in construction. One African American worked as a clerk at the company store and another was a coke yard boss. For some 85 years, the Nuttallburg mine and coal camp provided work and a way of life for many African Americans.
A coal company usually purchased or leased land around the mining operation on which to construct a town. A typical coal camp consisted of the tipple, coke ovens, a company store, church, school, post office, and company-owned housing. In 1890, there were 110 company-owned houses in Nuttallburg. Monthly rental on a simple four-room company house amounted to one or two day's wages. A 1922 survey found that over 80 percent of West Virginia miners rented their homes from a coal company. By 1900, Nuttallburg also had a doctor's office, blacksmith shop, club houses, and recreational facilities.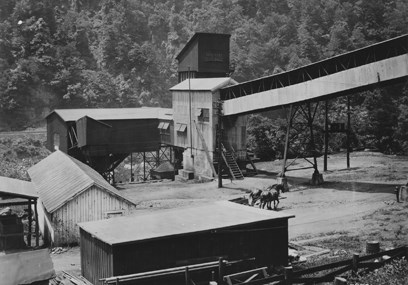 What was life like for black miners and their families living in a company town? Interviews of former coal camp residents indicate that segregation by status, race, and ethnicity existed in the coal camps. Black and white residents lived in different neighborhoods, worshiped in separate churches, and attended segregated schools. Housing for African Americans was often located on the outskirts of the camp or in a different hollow all together. In Nuttallburg, Short Creek divided the town. African Americans lived on the east side of the creek; white residents lived on the west side. Both communities had their own school, church, and clubhouses.
In the African American community, children attended a company school for black students. These schools typically went from first to eighth grade and ran five to six months a year. Students old enough to attend high school rode the train or bus to the closest town that had a high school for African Americans. The church was an important part of the African American community in the coal camps. It offered both spiritual and social activities weekly and throughout the year. Most residents were Baptists or Methodists who enthusiastically participated in church services and events.
When not working in the mines, black miners and their families enjoyed a variety of leisure and recreational activities within their community. Hunting and fishing were popular. African Americans enjoyed going to the theater, club houses, dance halls, and bowling alleys. Members of the community often gathered on front porches to play their guitars, banjos, and fiddles and to sing. Many African Americans spent Sunday afternoon visiting family and friends or watching a baseball game. Baseball was the miner's favorite sport with many camps having an all-black and all-white ball team. The Sunday afternoon baseball game was a major social event in the black community.
During the 1950s, life in the coal camp began to change dramatically. As mechanization of the mines increased, more and more miners lost their jobs. It was often the black miner who lost his job first. Without a job in the mine, the miner could no longer live in company housing. Without a home or job, miners and their families left the coal camps in search of jobs elsewhere.
The coal camp was never meant to be a permanent community. It was built and maintained to last only as long as the mine was open. When the coal seam played-out, coal companies simply packed up and moved on. They might dismantle and move some of the buildings to the next mining site or sell their residential properties to residents staying behind. However, without the mine operating and fewer people living there, the conditions of company towns deteriorated as time passed. Buildings that were not being used or lived in began falling down. Today there are no company-owned coal camps left in West Virginia.
Sources
Bailey, Kenneth R. "A Judicious Mixture: Negroes and Immigrants in the West Virginia Mines, 1880-1917,"
West Virginia History
.
Black Diamond
, Volume 68, No. 25 (June 24, 1922).
Lewis, Ronald L.
Black Coal Miners in America.
University Press of Kentucky, 1987.
Miller, Truman I.
Miner, A Life Underground.
Lexington, KY: Bacchante Books, 2015.
Tams . W.P. Jr.
The Smokeless Coal Fields of West Virginia
. Morgantown, WV: West Virginia University Press, 1963, 2001.
Joe Trotter, "Black Migration to Southern West Virginia," in
Transnational West Virginia
, editors, Ken Fones-Wolf and Ronald L. Lewis. West Virginia University Press, 2002.
White, I.C.
Report on Coal
, Vol. Two, West Virginia Geological Survey. Morgantown, W.Va.: Morgantown Post Company, 1903.
West Virginia Department of Mines,
Annual Report,
Various, 1883 - 1940.
Workman, Michael, "Coal Mining in the United States: A Technological Context," Institute for History of Technology & Industrial Archaeology, 2000, Unpublished manuscript.
U.S. Census, 1900 - 1940, Fayette & Raleigh Counties, manuscript copy, accessed at ancestry.com.
Downing, Bob.
History-Rich Nuttallburg tells story of coal mining in West Virginia's New River Gorge
. Akron Beacon Journal, 2013.
Last updated: January 29, 2020