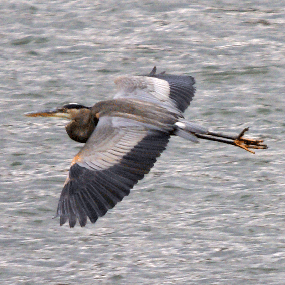 The watchable wildlife areas listed below highlight the species most commonly observed in the primary visitors use areas of the park.
Sandstone Falls/River Road
The nine mile drive down River Road (Rt.26) from Hinton to Sandstone Falls, and a walk along the boardwalk and Island Loop Trail is the only true extended riverside drive and walk available to visitors to New River Gorge National River. Be sure to stop at Brooks Overlook on Route 20, approximately five miles south of Sanstone Visitor Center. From the overlook, you can look down on Brooks Island, where a pair bald eagles have made their nest in a large sycamore tree at the north end of the island.
-bald eagles, osprey, great blue herons, kingfishers, numerous ducks and migrating waterfowl (loons, cormorants and hooded mergansers) in winter, beaver, mink, muskrat, river otter, northern water snakes, assorted aquatic turtles (river cooters, stinkpots and snapping), aquatic insects (Dobson flies(hellgrammites) dragon files, mayflies and damsel flies), hellbenders (large aquatic salamander), spike mussels, Asiatic clams
Sandstone Falls Overlook/ Route 20
The short walk, shady picnic area and overlook at this site provides great ridge top views of Sandstone Falls and the upper New River Gorge.
- soaring raptors (red tail hawks, broad wing hawks, turkey vultures), also ravens, pilleated woodpeckers and flickers, plus sightings of southern flying squirrels.