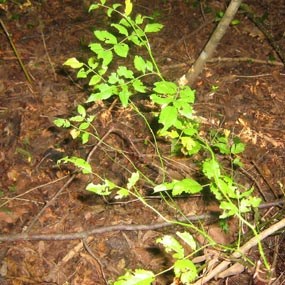 Multiflora rose (Rosa multiflora: Rosaceae) is deciduous shrub that is currently found in 40 states (Huebner et al. 2007, USDA PLANTS Database). Multiflora rose has origins from Asia, but was introduced to the U.S. around the 1880s. In the 1930s and 1940s, the U.S. government promoted the planting of multiflora rose for 'living fences', soil stabilizer, and for wildlife food and cover (Huebner et al. 2007).
Multiflora rose is a shrub with scrambling or climbing stems that can be up to 16 feet (5m) tall and just as wide (Huebner et al. 2007). Leaves are alternate and are pinnately compound with 5-11 leaflets that have finely serrated margins (Gleason and Cronquist 1991). The stipules, or stem of the leaves are fringed, an identifying characteristic of multiflora rose compared to native species. Like other roses, the stems contain thorns that have wide bases (Huebner et al. 2007). The five-petal white flowers bloom from April to June in clusters or single flowers (Miller 2004). After pollination, flowers mature into red egg-shaped fruits that last into winter. Turkey, deer, mice, and birds disperse seeds, where they remain in the seed bank for up to 20 years (Huebner et al. 2007).
Multiflora rose can grow alongside streambanks, roadsides, in pastures, forest canopy gaps, disturbed areas, and mature forests (Huebner et al. 2007). Similar native species include pasture rose (Rosa carolina) and smooth rose (Rosa blanda) (Huebner et al. 2007).
New River Gorge National River, Gauley River National Recreation Area, and Bluestone National Scenic River all have infestations of multiflora rose. The Invasive Pests Management Team treats multiflora rose with a foliar glyphosate or basal bark triclopyr herbicide spray.

Literature Cited
Gleason, H.A. and A. Cronquist.. 1991. Manual of Vascular Plants of Northeastern United States and Canada. 2 ed. Bronx (NY): The New York Botanical Garden Press, p. 257.
Huebner, C.D., C. Olson, and H.C.Smith. 2007. Invasive plants field and reference guide: an ecological perspective of plant invaders of forests and woodlands. USDA Forest Service. Newtown Square, PA.
Miller, J.H. 2004. Nonnative invasive plant of southern forest: A field guide for identification and control. General Technical Report SRS-62. U.S. Forest Service Southern Research Station, Asheville, NC.
USDA Natural Resources Conservation Service PLANTS database. PLANTS profile: Rose multiflora Thunb. Multiflora rose. Available from https://plants.usda.gov/java/nameSearch. (Accessed 26 March 2013).