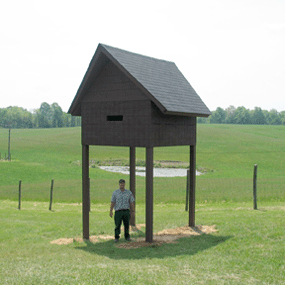 The National Park Service is working to protect bats through research, education, and the use of mine gates and bat houses. Throughout New River Gorge National River, abandoned coal mines create important habitat for bats. Bat gates installed over mine portals allow bats and other wildlife to find shelter without endangering the public.
At Grandview, the National Park Service has constructed a bat condo to give a new home to maternity colonies of little and big brown bats that had been living in the nearby amphitheater. Building the condo at the edge of a large field provides a flyway for young bats, and a nearby pond acts as an important source of water. Inside the house, over 1,000 sheets of plywood form baffles, where the bats squeeze into the spaces between the boards to rest. At full capacity the condo will shelter over 10,000 bats!
Grandview is located 5 miles north of I-64 at exit 129. To visit the bat condo, follow the road to the right upon entering the parking area at Main Overlook. This will take you to the Rhododendron Parking area. The bat condo is on the side of this parking lot near the large picnic shelter. Bats will usually emerge from the condo approximately ½ hour before dark on most evenings from late spring to early fall. Also check our activity schedule for Bat Chat programs offered throughout the summer months.
You can build a small bat house in your own backyard. Bat houses are easy to construct. Not only will a bat house provide an important place of refuge for bats, it will also help cut down on the amount of annoying nocturnal insects in your yard.
To find instructions on how to build a bat house, visit the Bat Conservation International website: http://www.batcon.org/index.php/get-involved/install-a-bat-house.html