Bald Eagles

Only a few years ago seeing a bald eagle in New River Gorge was a rare sight. In recent years however, the thrilling experience of seeing a bald eagle soaring over the New River has become a much more common occurrence.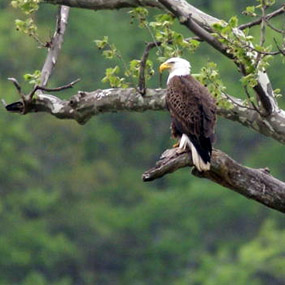 Although eagles had been seen for several years in the gorge, the first confirmed breeding pair of eagles in the park established a nest in the winter of 2009 to 2010. The nest was sighted in a large American sycamore tree on the downstream end of Brooks Island, in the southern part of New River Gorge National River. This pair of eagles laid two eggs in February 2010. For the next 34 to 35 days, the eagles were observed on a daily basis taking turns sitting on the eggs and soaring from the nest in search of food. Two eaglets hatched in March and were seen first taking flight in early June.

In the winter of 2011 the adult eagles returned to breed again and three chicks were hatched in early March. The pair returned in 2012 and had three more chicks. They returned again in 2013, but unfortunately the eggs did not hatch.

To learn more about bald eagles at New River Gorge, check out our Bald Eagle Brochure.


To view an outstanding collection of photos of the bald eagles at New River Gorge taken by David Hypes, check out the bald eagles photo gallery.