Prince Depot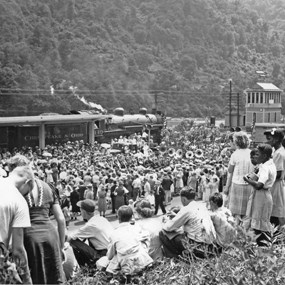 With the railway completed through the New River Gorge in the spring of 1873 and coal being shipped out in the fall of that same year from Quinnimont, the need for passenger service was evident. The first passenger train depot was built at Prince in 1880 and lasted until 1917, when it was destroyed by fire, and then rebuilt that same year. The building was enlarged in 1891 to be able to accommodate the large volume of freight and passengers traveling to the area. The depot was very strategic and efficient for both Fayette and Raleigh counties. Another passenger depot was constructed nearby at Quinnimont in 1896.
The current brick train depot at Prince was built in 1946 by the Chesapeake and Ohio Railway at a cost of $200,000. The new depot used Art Deco style architecture, and had its grand opening on June 26, 1946, that was attended by an estimated 2,000 people with a marching band, state and railroad dignitaries, speeches and refreshments.
Today, Amtrak provides passenger service with the Cardinal on Wednesday, Friday and Saturday. In the fall of the year, when the leaves take on their brilliance of colors, the New River Train Excursion from Huntington to Hinton takes visitors through New River Gorge on the third and fourth weekends of October.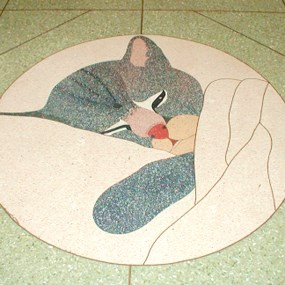 If you visit the Prince Depot, look for Chessie in the floor tiles; she's the popular cat character once used as a symbol of the Chesapeake and Ohio Railway.
Last updated: February 26, 2015