Glade Creek / Hamlet
The piers of the abandoned Glade Creek Railroad Bridge mark the site of a former lumber mill and the remains of the company logging towns of Glade and Hamlet. This site once vividly illustrated the cycle of commercial logging in the southern Appalachians. The railroad had opened up a seemingly endless old growth deciduous forest. Narrow gauge branch lines further penetrated the wilderness, as loggers with hand saws, axes and teams of draft horses cut and dragged the trees from the mountains. Sawmills and mill towns soon followed.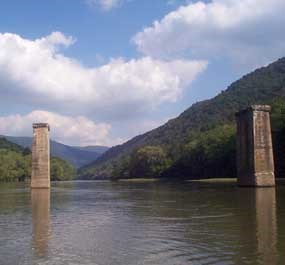 The demand for lumber grew steadily and Hamlet and Glade rode the boom, but the logging practices of the time brought both the forests and the towns to doom. Amazingly, from the 1880s to the 1930s, the old-growth forests of West Virginia were completely cut down. With no more timber to be harvested, logging operations shut down, the mills closed, and the towns and narrow gauge rail-line were abandoned. The metal section of the bridge that once connected Glade to Hamlet was recycled for use during WW II.
The cutting of the ancient forests of the southern Appalachians obviously did not destroy them. Natural re-growth has once again covered the ridges, slopes and valleys with trees. A mature hardwood forest of the size and quality logged at the around the turn of the last century takes a hundred years to grow. With our nation's present plans for housing and commercial land development, and our needs for wood products, the majestic old growth forests and the unique ecosystems that they produced may never have the chance to return except in our nation's protected national and state parks.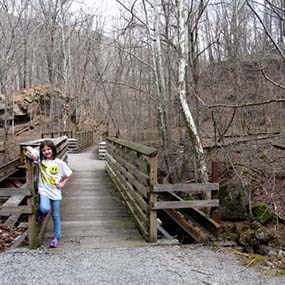 Visiting Glade Creek and Hamlet

Glade Creek today is a popular place for hiking, camping, fishing, and boating. A primitive campground with five drive-in sites and several walk in sites is located here, as well as a river access for starting or ending a river trip. A small footbridge crosses Glade Creek at the campground and trailhead for the Glade Creek Trail. Across this bridge it is a ½ mile off-trail walk to the remains of Hamlet. Please remember when visiting any historic site in the park that all historic objects are protected and should remain where they are found.
To reach Glade Creek, follow WV 41 to the Prince area. Turn onto Glade Creek Road on the south end of the WV 41 bridge that crosses New River. Travel 6.0 miles to the trailhead parking area, next to the primitive campground at Glade Creek.
Last updated: December 19, 2019