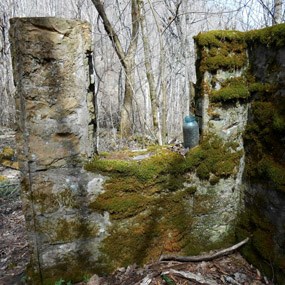 As park rangers at New River Gorge we enjoy helping people discover the fascinating natural resources and stories of the park, but often we are the ones doing the discovering. One of these discoveries was Bertha Huffman, a participant in our oral history program. The oral history program at New River Gorge National River dates back to the establishment of the park in 1978. Participants are former residents of the gorge; miners, railroaders, loggers and their families. We record the stories of their lives in the gorge, copy their old photographs and preserve them in the parks historical archives.
For several years we had been leading hikes on the Big Branch trail near Hinton. The trail follows a cascading creek with several waterfalls and a profusion of wildflower blooms in the spring. About one mile up the creek the trail passes the remains of a former homestead; a few logs from a barn, the foundation pillars of a house, a stone wall, and the roofless opening of a root cellar. Iris and daffodils still bloom among the briers and saplings taking over the abandoned home site.
We wanted to learn more about this place so we pursued another trail, a trail leading to Bertha Huffman, a wiry 73 year old woman who still cut her own firewood and tended a herd of cows. She had grown up on Big Branch, leaving it when she married in 1945. Mrs. Huffman had never returned to her childhood home until we asked her to walk the trail with us and record her memories of the place. She called the rugged creek gorge by its old name of "Berry Holler", she was just as amazed to see how much the hollow had changed as we were to hear what it had been like fifty years ago.