It was Not Just About a Coin!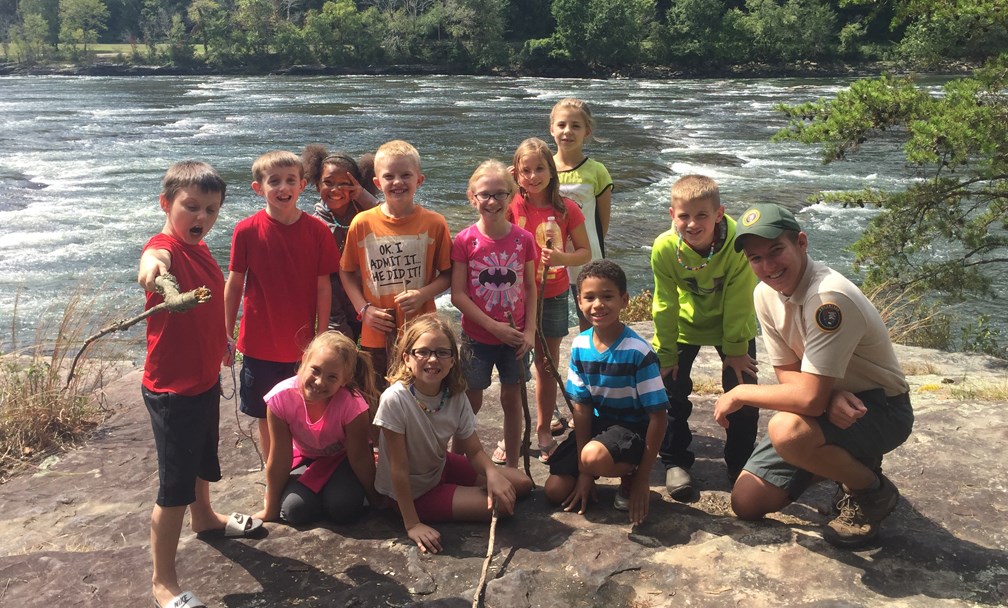 This past year was historic for the National Park Service (NPS), as it celebrated 100 years. I, a 14 year old boy in the prime of my life, helped to accomplish the NPS centennial mission. The mission was to bring the young and old into the parks and empower them with the mantle of responsibility for these sacred places. In addition to the mission we, the public, were asked to FIND YOUR PARK. I can definitely say I FOUND MY PARK and helped to achieve the centennial mission!

I set out with a goal at the beginning of 2016 that I would become a National Park Service Centennial Challenge Coin recipient. I had to complete 201.6 hours of volunteering with the NPS. I chose to volunteer at New River Gorge National River (NRGNR) since it is a 20 minute drive from my house.

As a way to help people find their park and enjoy a healthy pastime, NRGNR started the 100-mile challenge. For this challenge the NPS encouraged people to hike 100 miles in New River Gorge and Bluestone National Scenic River. Over 900 people registered for this healthy initiative and some people were so motivated they finished the challenge within the first couple months of 2016. I volunteered on several 10-mile hikes along the Bluestone National Scenic River, managed by NRGNR. I was able to be a part of these long hikes because I was fortunate enough to be able to attend seasonal training which included certification in first-aid and CPR. This was a great opportunity for me to show leadership skills and my love of the outdoors as I helped park rangers lead the hikes. It was amazing to see visitors from all over the country come and make memories in a park I have grown up in.

The park held two Every Kid in a Park events, and I volunteered at both of the them. One was at Grandview and we hosted over 1,100 4th graders from 3 counties. The other was a geography camp at Camp Brookside Environmental Education Center where we hosted 80 4th graders and 35 of the kids were able to stay overnight to experience real camp life. I really enjoyed the day at Camp Brookside and found out what it felt like to be a real park ranger. When the kids got to my station I lead them on a half mile hike to Brooks Falls, answered questions about the camp, taught the significance of Leave No Trace Outdoor Ethics and emphasized the importance of preserving and protecting the park for future generations.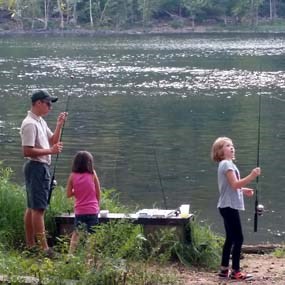 I really got to put my stewardship and teaching skills to the test during a new event in 2016. NRGNR held their first annual Girl Scout Ranger Day. Twenty-six local girls earned the Girl Scout Ranger patch for service and educational activities they participated in while at Camp Brookside over a 2-day overnight retreat. I was responsible for teaching the girls how to fish and I helped them with a service project of planting 20 new trees. This was a very influential two days because these girls were able to be immersed in nature and learn what life was like back in the 1950's when the original campers went to Camp Brookside. I was there over this two day period to see the notable change and significant impact this two day camp had on the lives of these girls. They all walked away begging their parents to be able to come back and experience nature at its finest.
I was privileged to be part of the Class Act program which was one of the Call to Actions initiatives for 2016; a call to all National Park Service employees and partners to commit to actions that advance the service toward a shared vision for 2016 and our second century. One particular day when we had the entire Summers County fifth grade at Grandview, I was responsible for assisting the kids on an obstacle course through the woods which promoted the Healthy Parks, Healthy People program. I can remember how much fun we had that day. They learned that being outside playing in nature, learning about the plants and animals is just as exhilarating as playing video games.
I did many new things over the past year to prepare for a future of service, hopefully one day serving as a National Park Service park ranger. I helped visitors at the visitor center desk, worked to eradicate invasive plant species, and tended to the native plant gardens at Sandstone Visitor Center. As I look back at the last year and the 212.5 volunteer hours I served at New River Gorge National River, I realize that it was never just about earning a coin. It was always about helping the National Park Service fulfill a Centennial mission that I strongly believe in. Through volunteering, stewardship, and leadership abilities, youth will become the accountable and responsible citizens of tomorrow. I found my park at New River Gorge National River and I have faith that others will find their park too!
by Tyler Wills
Volunteer, New River Gorge National River
Last updated: February 17, 2017