Appalachian Spring Wildflower Art Contest Overview and Rules

What This Program Is All About:
Youth Arts in the Parks is a student competition that celebrates ecology through art! Through this program and the April art exhibit at Tamarack and online, students have the opportunity as community leaders to raise awareness of Appalachia's natural diversity and parks. Their works inspire community connections to local ecology and outdoor stewardship. Participating students may also have the opportunity to explore the business of art and its role in economic development.

The Youth Arts in the Parks program is part of New River Gorge Wildflower Weekend, a special event that celebrates the area's amazing ecology. New River Gorge National River, Tamarack, and the West Virginia state parks of Babcock, Carnifex Ferry Battlefield, Hawks Nest, Pipestem Resort, and Twin Falls Resort partner to host this annual public event.
Contest Rules:
Who can enter: All students in grades K through 12 from Fayette, Nicholas, Raleigh, or Summers counties. Students do not have to enter through a school.
Medium: All entries must be an original work of art. Entry may be of any medium type (pencil, ink, acrylic, oil, glass, charcoal, pastel, watercolor, clay, paper, wood, etc.). Computer generated art or photography will NOT be accepted.
Wildflower species contest checklist and reference: The wildflower/s depicted MUST be a species from the contest checklist. Some wildflower photographs are available as reference, though these works are not to be traced or copied. A limited number of wildflower photograph reference binders are available for free loan to teachers. To sign out a binder or if you have a species question, contact jodi_french-burr@nps.gov or call 304-465-2632.
Entry categories, size, and quantity: Students can enter in two categories, one piece as individual entry and/or one piece as part of an artistic team in the new Team Habitat Challenge.
Here are the details for each entry category:
Individual entry
Quantity: Each student can enter one piece in this individual art category.
Size: Each individual entry must meet the appropriate art size below. Do NOT frame or mat art.

two-dimensional art: size 8" x 10" ONLY (portrait or landscape in orientation)
three-dimensional art: sized between 4" and 18" square

Art subject: Entry MUST be inspired by a native blooming Appalachian wildflower from the attached contest checklist. If the art includes a background, it should be representative of the plant's natural habitat (local forest, river edge, or field) and in the appropriate blooming season. Multiple plants may be included in the piece, but all blooms must be from the contest list. The blossoms should be the focal point of the art, though appropriate wildlife from the same habitat may be included in the piece. It is inappropriate for contest entries to include wildflowers in a pot, picked bouquets, flowers on a bridge or roadway, or with domestic animals. Please remember that one of the goals of this contest is to teach people about the region's diverse natural ecology through these works of art.
Team Habitat Challenge entry
Quantity:
Two students team together in a contest grade-group pair to create one entry for their specific grade-group's teaching topic listed below. NOTE: study up on your teaching topic to ensure your team art includes appropriate details of your wildflower and its role in the ecosystem. This will help others learn more about nature through your art.
Grade-group Teaching Topics (art subject):
Grades K - 2 challenge > Pollinator Pals: show contest wildflower with appropriate common pollinator, like a bee, butterfly, ant, hummingbird, etc. - SIZE: two-dimensional art size 11" x 14" ONLY.
Grades 3 - 5 challenge > Powerful Petals: show all parts of a contest wildflower, root to tip. Include roots, stem, leaves, sepals, and blossoms. Habitat immediately surrounding the plant may also be included in the piece. - SIZE: two-dimensional art size 11" x 14" ONLY.
Grade 6 - 8 challenge > Leaving Legacy: make an educational poster using contest wildflower to teach the Leave No Trace Outdoor Ethics principle of "Leave What You Find" (these four words MUST be included in poster). - SIZE: two-dimensional art size 11" x 14" ONLY.
Grades 9 - 12 challenge > Habitat Happenings: show a detailed look of a contest wildflower in its appropriate habitat. Select one of the following local habitats: mixed mesophytic forest, mountain stream/river, or Appalachian flatrock community. - SIZE: two-dimensional art size 18" x 24" ONLY.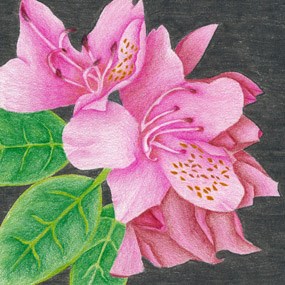 2020 Dates and Deadlines:
Image submission window:
January 6 to February 9, 2020
Decision notification (sent via email):
February 25, 2020
Delivery deadline for accepted work:
March 10, 2020
Exhibit run:
physical exhibit at Tamarack's theater vestibule: April 3 - May 4, 2020
online exhibit at www.nps.gov: opens mid-April, 2020
exhibit and public sale of top five 2020 Best in Show pieces, part of spring adult gallery exhibition, Vividly Chromatic, at Tamarack's David L. Dickirson Fine Art Gallery: April 11 - June 14, 2020
Work pick up deadline (does not include top five Best in Show):
May 8 to 17, 2020
(two art pickup locations)
How Students Can Enter The Contest:
1. Read and follow all contest rules or be subject to entry disqualification.
2. Sign in or create a FREE account on the NEW online contest entry platform through Submittable. Contest participants should use the link below to go directly to our Submittable online contest platform and submit their art entries. Entries can be submitted from January 6 through February 9, 2020.
Submit your artwork
3. Enter name and contact information in the Submittable text boxes.
4. Upload image of your contest entry. Multiple images of each entry are permissible for the purpose of showing fine details. Image submissions must be in .JPEG format. Image resolution should be at least 300 dpi. Please title your entry Individual or team_grade_Lastname/s_Title (EXAMPLE: individual_6_Smith_StarFlower; team_Smith&Davis_K_Bee-on-Beebalm).
5. Be sure to include title, medium, and brief description in the corresponding Submittable text boxes.
6. You will receive a confirmation email from the Submittable service if your application has been received. If you do not receive a confirmation of receipt, please contact the contest coordinator at jodi_french-burr@nps.gov or 304-465-2632.
Judging and Awards:
Judging criteria:
Art entries must be a creative rendering of an Appalachian spring wildflower/s (MUST be a species from the contest checklist). Works will be judged on the basis of original design, composition, artistic technique, and its representation of a wildflower species.
Judging process:
Participants will be notified of contest winners via email by February 25, 2020.
Individual entry category will be judged first at the county level, a jury panel selecting the top five entries from each grade group (K - 2, 3 - 5, 6 - 8, and 9 - 12) in each participating county. These 20 entries per county will be included in the contest exhibit. These works will also go through a second jury by grade group to pick the top five Best in Show contest entries overall.
Team Habitat Challenge entry category will be judged overall with one piece selected for each grade group. The four pieces selected from this category will be highlighted in the exhibit as a special teaching element and are not eligible for the overall Best in Show selection.
Display and awards ceremony for winning entries
: All contest artwork juried into the contest exhibit will be on public display at Tamarack April 3 through May 4, 2020, as well as online at www.nps.gov/neri. Contest winners will be invited to a special artist recognition ceremony and reception at Tamarack in April to receive their award certificate, ribbon, and art supplies to further their creative works.
Best in Show overall winners: the five pieces selected in the individual entry category as Best in Show overall will be displayed and for public sale at Tamarack's David L. Dickirson Fine Art Gallery spring exhibition, Vividly Chromatic. These five youth works will be featured alongside the works of adult Tamarack artists. Tamarack staff will assist the top five artists and their families to decide on an appropriate purchase price for their artwork. If any of these five pieces are purchased, 60% of the purchase price will be paid to the individual artist, while 40% will go to Tamarack. If the work is not purchased, the artwork will be returned to the artist after the completion of the gallery show in mid-June.
Note to teachers:
WV CSO connection:
This program is also designed to help teachers meet elements of West Virginia Teach 21 and Next Generation Content Standards and Objectives. Related subjects can be found at
http://wveis.k12.wv.us/Teach21/public/cso.
Use this website to search for related WV CSOs with such key words as biology, business, career, design, environment, habitat, nature, and plants. Such content connections can be used to further your students' learning experiences through this contest.
Additional Questions:
Contact contest coordinator by email jodi_french-burr@nps.gov or call 304-465-2632.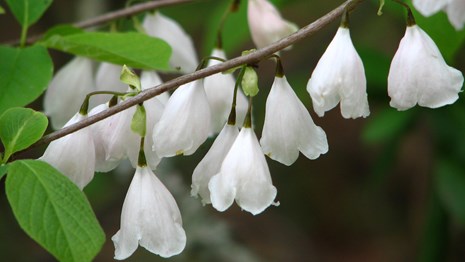 Wildflower Art Contest Species Checklist
Check the species list for a list of native wildflowers that you can use for the Appalachian Spring Wildflower Art Contest.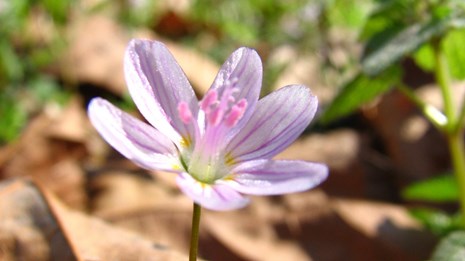 Wildflower Art Contest Species Reference
Check here for photo references of species you can use for the Appalachian Spring Wildflower Art Contest.
Last updated: October 10, 2019