Visit Pierce Courthouse
Pierce Courthouse stands as a reminder of the gold rush that swept through the region in the 1860s. The namesake of the courthouse, Elias Davidson Pierce, discovered gold in the creeks above Orofino, which triggered events that have had lasting consequences for the Nez Perce. Built in 1862, the courthouse is the oldest public building in the state of Idaho.

This page provides the information you need to plan your visit.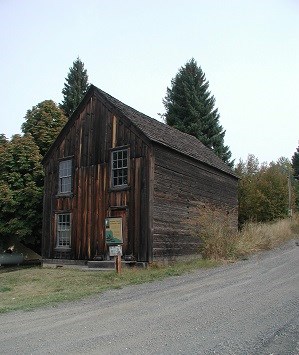 Getting to Pierce Courthouse
The Pierce Courthouse is one block off Main Street (Idaho Highway 11) in Pierce, Idaho.
Location
Latitude/Longitude:
46°29'24.76"N 115°47'53.24"W
Driving to Pierce Courthouse
The Pierce Courthouse is located on Northeast corner of Court St. and 1st Ave. South in downtown Pierce, Idaho.
Things to Do at Pierce Courthouse
Explore the Site
The staff and volunteers of the adjacent J. Howard Bradbury Memorial Logging Museum operate the courthouse building under a cooperative agreement with the Idaho State Historical Society. The building is open on request and on summer weekends. Outside the courthouse is a wayside that summarizes the impact of gold mining on the Nez Perce and inside there are eight panels that detail the area's history. At the north end of Pierce, there is a historical marker titled" Pierce Courthouse" which gives a brief history of the courthouse building.
Nearby Amenities
The Pierce Courthouse is located approximately 66 miles east of the Nez Perce National Historical Park's visitor center where further information is available.

In addition, the Idaho Department of Commerce has a trip planning website that will help you locate hotels, campgrounds, restaurants, and other amenities near the Pierce Courthouse.
Last updated: January 13, 2018