Visit Canyon Creek
Canyon Creek is the location of the second-to-last battle of the Nez Perce Flight of 1877. After emerging from Yellowstone National Park, the Nez Perce were pursued by the Seventh U.S. Cavalry under Samuel Sturgis. In a rearguard action, the Nez Perce were able to gain time by successfully stopping the pursuing troops at Canyon Creek on September 13th.

This page provides the information you need to plan your visit.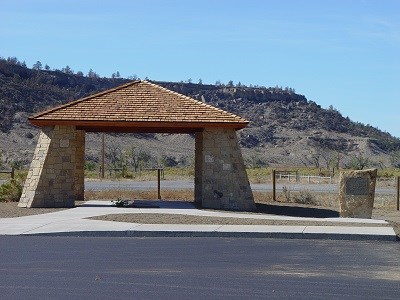 Getting to Canyon Creek
The Canyon Creek Battlefield and Interpretive Site is located on Buffalo Trail Road 8 miles north of Laurel, Montana.
Location
Latitude/Longitude for the Highway Pullout:
45°46'32.78"N 108°47'44.74"W
Driving to Canyon Creek
From I-90 at Laurel, Montana head west on exit 434. Turn north onto S 1st Ave and drive 2 miles to Buffalo Trail Road. Continue onto Buffalo Trail Rd/Laurel North Rd for 6.3 miles. Turn right onto Lipp Rd. The interpretive site will be on the left.
Nearby Airports
The Billings-Logan International Airport is located 16 miles east of Canyon Creek Battlefield.
The Bozeman-Yellowstone International Airport is located 145 miles west of Canyon Creek Battlefield.
Public Transportation
Public transportation is not available. Car rentals may be available in Billings.
Things to Do at Canyon Creek
Explore the Site
Canyon Creek Battlefield is an affiliated site of the Nez Perce National Historical Park that is located on a mix of privately and state owned land. An interpretive site on Buffalo Trail Road has a pavilion, a stone monument and bronze plaque erected by the Yellowstone Historical Society, and several wayside panels that provide information on the skirmish that took place here in 1877. The battlefield is largely unaltered and visually evokes a strong feeling to its 1877 past, when it consisted of undulating grassy sage-covered ridges and plains; however it is not accessible to the public. Please respect the land owners' property rights and do not venture beyond the roadside pullout.
Nearby Amenities
Nez Perce Trail Auto Tour
The staff at the Nez Perce National Historic Trail have developed auto tours with travel instructions for retracing the route of the Nez Perce along with maps, graphics, and details about the confilct at sites you can see along the way. Download Auto Tour 7 for more details about the Battle of Canyon Creek.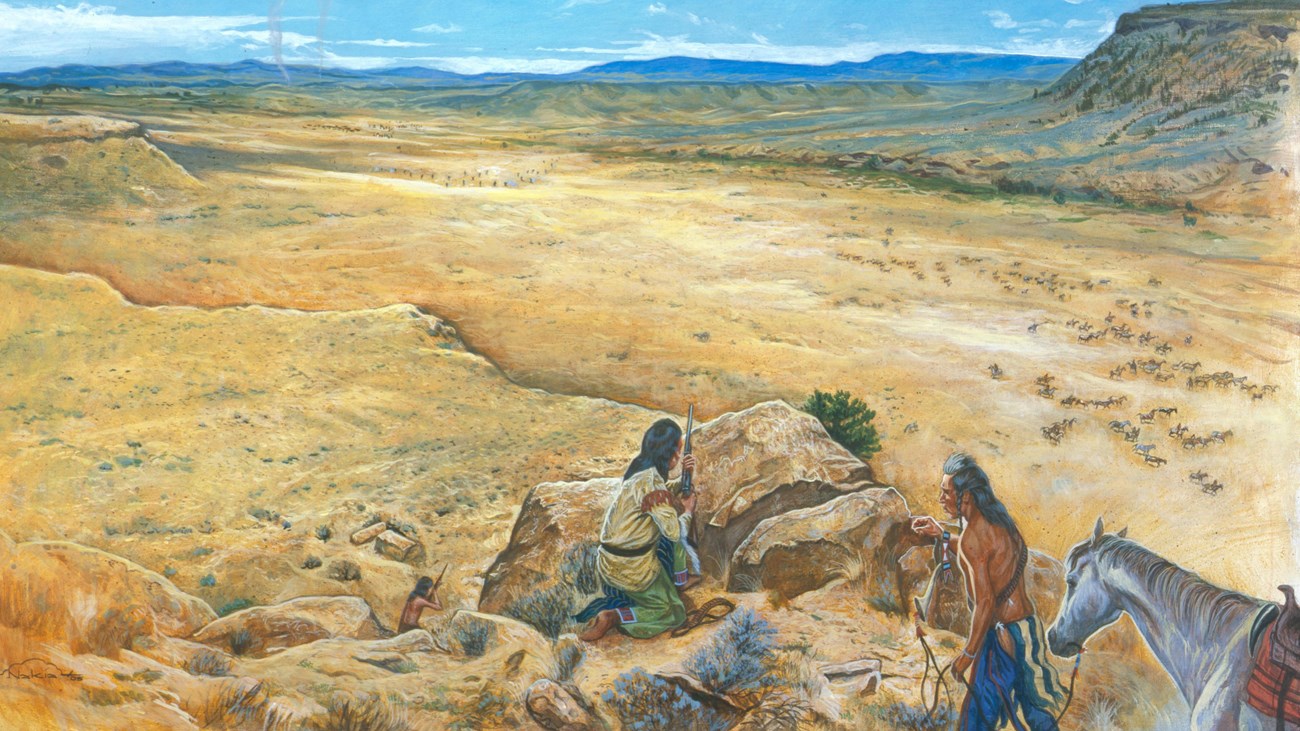 Canyon Creek History
The Nez Perce were able to successfully stop the pursuing cavalry by firing down from the canyon walls on September 13, 1877.
Last updated: May 4, 2023