The Spalding Site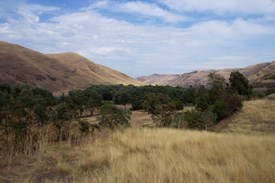 The Spalding site is rich in history. Long before the arrival of explorers or missionaries, this was a place where the Nez Perce lived and fished. Beginning in 1838, the Rev. Henry Spalding established his mission here, but this is just one short chapter in the story of a site that has seen continuous habitation for generations.
In the last 170 years, this place witnessed a relentless pace of change. In the nineteenth century, this site was the center of activities that would have a profound effect on the Nez Perce people. The Nez Perce Indian Agency moved to this location in 1861 and remained until 1904. When the Agency moved, the town shrank with its last business, Watson's General Merchandise Store, closing in 1964. In 1935, the site of the mission was preserved by the State of Idaho. Thirty years later, in 1965, Nez Perce National Historical Park was created by an act of Congress and what was known as Spalding Park became the headquarters and visitor center for Nez Perce National Historical Park.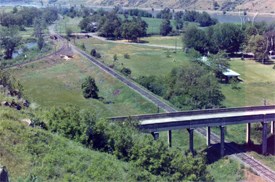 Nez Perce National Historical Park
The impetus to create a new National Historical Park came from a variety of different sources. Local groups, such as the Daughters of the American Revolution and the Presbyterian Board of Missions wanted to commemorate the establishment of Spalding's mission. These efforts began in the 1920s and continued through the 1960s. Another participant was the Nez Perce Tribe. They requested assistance from the National Park Service in the early 1960s to develop alternatives for attracting tourists to the reservation.
The completion of a report for the Tribe in 1963 raised further interest in the Idaho Congressional delegation, Department of Interior, and National Park Service for the creation of a park unit focused around the Nez Perce. This interest led to the drafting of legislation that was passed into law on May 15, 1965. The park's legislation reflected the many interests of the groups that lobbied for a unit that would include, "the early Nez Perce culture, the Lewis and Clark Expedition through the area, the fur trade, missionaries, gold mining and logging, the Nez Perce war of 1877, and such other sites as he finds will depict the role of the Nez Perce country in the westward expansion of the Nation."
In 1992, the park's legislation was amended, adding thirteen additional sites to the park in Oregon, Washington, and Montana, encompassing sites associated with the Nez Perce in Wallowa, Oregon and the 1877 war.
Last updated: February 23, 2023