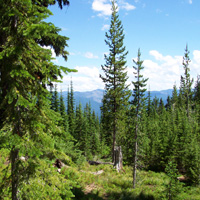 The route over the Bitterroot Mountains known today as the Lolo Trail was used by the Nez Perce long before Lewis and Clark came on the scene. Extending from Weippe Prairie to Lolo Pass along the Idaho-Montana border, it was the primary route over the Bitterroot Mountains into western Montana and the northern Great Plains. During the events of 1877, the Nez Perce followed the trail to Lolo Pass and on into Montana.
Lewis and Clark struggled over the Lolo Trail in September, 1805. What was thought to be a five day journey turned into an arduous journey of eleven days over snow covered hill tops and ridges. Led by a Lemhi Shoshone guide known to the expedition as "Old Toby", they began their journey on September 12. By the 16 and 17, they were hit by severe snow storms that slowed progress significantly. There was also a scarcity of game on the ridge tops, forcing the expedition to eat some of its ponies and emergency rations. As they reached the southern end of the trail, Clark took a small party of hunters ahead of the main party to search for game and make contact with the Nez Perce, which they did on September 20.
Traveling the Trail Today
Visitors can retrace the route that the Nez Perce took over the Bitterroot Mountains in 1877 on U.S. Highway 12 or on a primitive dirt road known as the Lolo Motorway (Forest Road 500). A visitor center complex located at Lolo Pass. The rest area is open twenty-four hours a day. The visitor center is open seven days a week from mid-May through mid-September from 8:30 am to 5:30 pm (PDT). Call (208) 942-1234 for more information.
PLEASE NOTE: Forest Road 500 is suitable only for high clearance vehicles. Trailers are not recommended. Please visit the Clearwater National Forest website for more information on current conditions.