Fort Lapwai History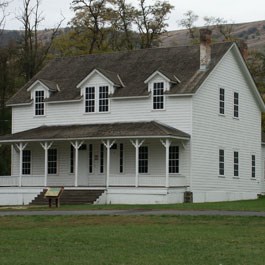 In 1860, Elias D. Pierce found gold on a tributary of the Clearwater River near the present town of Orofino. News of this discovery spread through the Pacific Northwest like wildfire. In the spring of 1861 thousands of men descended on the Nez Perce reservation. They were trespassing on Nez Perce land that had been set aside for a reservation in the Treaty of 1855.
Unable to stem the tide, civilian authorities called on the military to establish a fort on the reservation to protect the Nez Perce from the invading miners. In addition, negotiations began that would ultimately lead to the Treaty of 1863 that would shrink the reservation, placing the gold fields outside of the reservation boundaries.
In the fall of 1862, two companies of volunteers arrived on a site two miles above Lapwai Creek to establish an army post that would become Fort Lapwai. Until 1885 the fort would be garrisoned providing an army presence on the reservation.
The fort played a key role in the events leading to the Flight of 1877 when General O.O. Howard, commanding officer of the Department of the Columbia ordered Joseph's band to move from their homeland in the Wallowa's of northeast Oregon to the reservation.
When the conflict began in June 1877, Fort Lapwai was the center of operations until the Nez Perce crossed the Bitterroot Mountains into western Montana. In the months following the last battle at Bear Paw in October 1877, the fort's stockade held prisoners captured during the war and Nez Perce returning to the reservation after hostilities ended.
The bulk of the buildings, most of which are no longer standing, were built between 1862 and 1884. The post had barracks for enlisted personnel, quarters for officers, stables, warehouses, offices and corrals.
The National Park Service protects an officer's duplex that was built in 1883. At the current time it is closed to the public.
Last updated: July 28, 2022