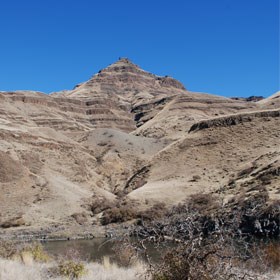 Dug Bar is the site where Chief Joseph band's of nimí·pu· (Nez Perce) forded the Snake River on May 31, 1877 while complying with the U.S. government's demand to leave their homeland in the Wallowa Valley of northeastern Oregon and to move onto the smaller Nez Perce Reservation near Lapwai, Idaho.
Roots of Conflict
In the aftermath of the 1863 Treaty with the U.S. government, the Wallowa Valley in northeastern Oregon was left outside of the Nez Perce Reservation. Joseph and his brother Ollokot met with General O.O. Howard at Fort Lapwai in the spring of 1877 in an attempt to forestall a forced eviction from their homes. Their parley failed and Joseph returned home with sad news - the nimí·pu· had to leave. Howard gave them only thirty days to pack and move to the Nez Perce Reservation. Although at the time they did not know it, Joseph's band would never be allowed to return to their homeland again.
The Crossing at Dug Bar
Dug Bar was a traditional crossing point for the Nez Perce. In the late summer, after water levels traditionally drop, it was a relatively safe place to cross the river. Unfortunately, Joseph's people were forced to cross the Snake River at the end of May when it was flowing high and fast with the spring runoff. Conditions were ripe for disaster.

Women, children, the elderly, and all of the band's possessions crossed the churning river on horsehide rafts pulled by swimming horses. Several thousand head of horses and cattle were also forced to swim the river, with considerable losses.

Learn more about what happened next by following the links below.