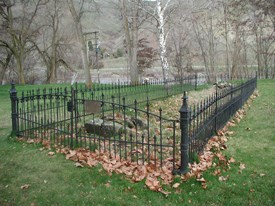 Henry and Eliza Spaldings Mission
In the summer of 1838, Henry Spalding and his wife moved their mission complex and home from five miles up the Lapwai Valley to its present location, where it would remain until 1847 when they fled Nez Perce country in the aftermath of the killing of Marcus and Narcissa Whitman in Walla Walla.
The site near Lapwai Creek was cooler during the summer. With help from the Nez Perce, he collected logs and built a home that measured thirty-two feet by twenty-two feet. Over the next ten years, the small modest structure that was built in 1838 gradually expanded to encompass a host of activities that occurred at the mission. Additions were made in 1838, 1841, and 1844 to incorporate a school, printing house, and living space for Nez Perce who worked at the mission and school.
After leaving Nez Perce country, the building was used by the Indian agent but they did not preserve the structure. A portion of the building was still standing when Spalding's oldest daughter visited the site in 1884. When she visited again in 1909, the house was gone. In 1923, the Daughters of the American Revolution placed a tablet commemorating the Spalding Mission and in 1935 they erected an iron fence around the foundations of the Spalding home site.
In 1974, archaeologists from the University of Idaho excavated the site and located the principal building and the subsequent additions made by Spalding. The evidence provides some insight into how Spalding built his complex - quickly and cheaply. The team did not find many artifacts, suggesting that Henry and Eliza did not have many personal possessions.