World War II Veterans and others to commemorate Pearl Harbor Remembrance Day at WWII Memorial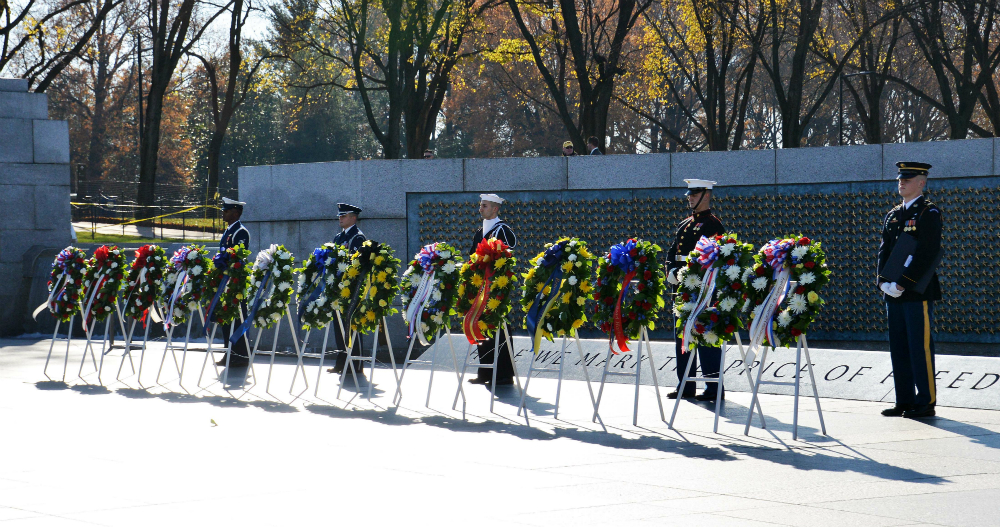 News Release Date:
December 1, 2017
Contact: Mike Litterst, (202) 245-4676
WASHINGTON – The National Park Service and the Friends of the National World War II Memorial will remember and honor all those who died in the December 7, 1941 attack on Pearl Harbor 76 years ago during a special event at the National World War II Memorial in Washington, D.C. on Thursday, December 7, 2017 at 12:53 p.m.
President of the National Football League's Washington Redskins, Mr. Bruce Allen, will serve as the ceremony's keynote speaker. Under Mr. Allen's leadership, the Washington Redskins have maintained strong support for our nation's military and veterans communities, even launching "Redskins Salute" a free military appreciation community. Mr. Allen also serves as a member of Friends' WWII 75th Anniversary Honorary Committee alongside Presidents George H.W. Bush and Jimmy Carter, Senator Bob Dole, Tom Hanks, Frederick W. Smith, and others.
As part of the ceremony, Mr. Allen and more than a dozen World War II Veterans and Pearl Harbor Survivors will place wreaths at the Freedom Wall in remembrance of the more than 400,000 Americans who lost their lives during World War II, including the more than 2,400 who lost their lives on December 7, 1941.
ABC7/WJLA-TV news anchor, Jonathan Elias, will serve as the event's Master of Ceremonies. Friends' chairman Josiah Bunting III and Cassius Cash, acting superintendent of the National Mall and Memorial Parks, will offer welcome remarks. The Military District of Washington will provide military support for the event.
Last updated: February 6, 2018