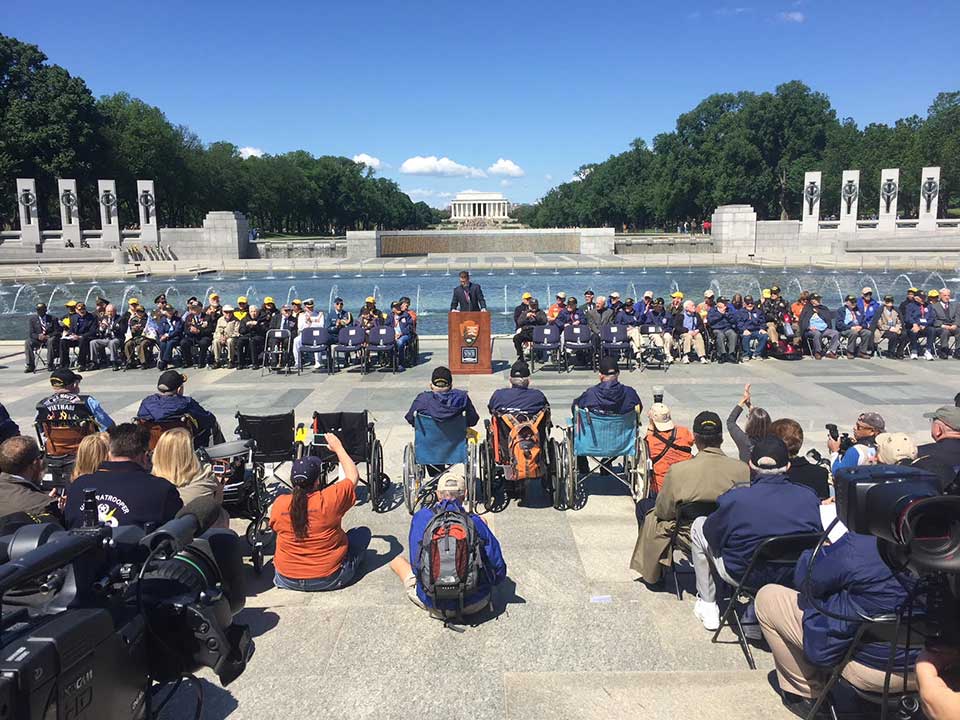 News Release Date:
May 22, 2018
WASHINGTON, D.C
. – The National Park Service and Friends of the National World War II Memorial (Friends) will pay tribute to the more than 400,000 Americans who lost their lives during World War II in a special Memorial Day observance at the World War II Memorial on Monday, May 28, 2018 at 9 a.m.
The ceremony will feature a keynote address by Arthur Chotin, whose father Army SSgt. Max Chotin died in Belgium on November 3, 1945 at the age of 30. His son, Arthur, just shy of 11 months old at the time, was raised by his mother, Sylvia, who never remarried. Mr. Chotin has had a distinguished career in law and has had leadership positions on several presidential campaigns. As a member of the American World War II Orphans Network, he works to keep his father's memory, and the memories of all who died during World War II, alive in the hearts and minds of current and future generations.
As part of the commemoration, nearly 20 World War II veterans will lay wreaths at the Freedom Wall in remembrance of their fallen brothers and sisters. Following a pre-ceremony "Parade of Heroes" at 8:45 a.m., each of the veterans will be individually introduced. Among the World War II veterans in attendance will be PGA Golf Professional Hall of Famer Bob Toski.
Jonathan Elias, news anchor for ABC7/WJLA-TV will serve as the event's master of ceremonies.
Patricia Trap, acting superintendent of the National Mall and Memorial Parks and Friends' chairman Josiah Bunting III will offer welcoming remarks. The Military District of Washington will provide military support for the event.