News Release
National Park Service awards contract to repair Tidal Basin and West Potomac Park seawalls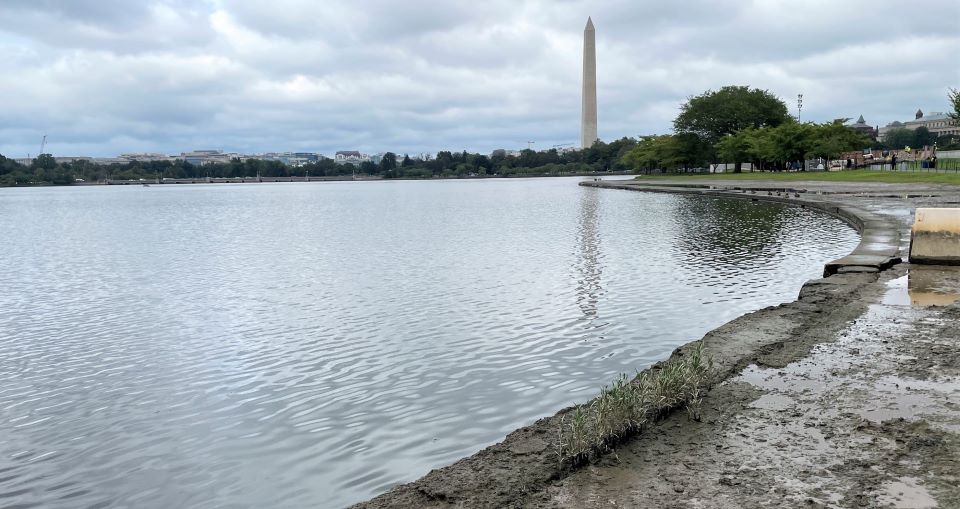 News Release Date:
August 29, 2023
Contact: Mike Litterst, 202-306-4166
WASHINGTON – The Great American Outdoors Act (GAOA) National Parks and Public Land Legacy Restoration Fund is providing $112.76 million to the National Park Service for a contract to rehabilitate the failing seawalls around a portion of the Tidal Basin and along the Potomac River through West Potomac Park.
"Repairing the seawalls has been a top priority of the National Park Service for years," National Mall and Memorial Parks Superintendent Jeff Reinbold said. "The Great American Outdoors Act funding not only allows us to protect our nation's treasures from the immediate threats of failing infrastructure and rising sea levels, but also will ensure these special places are protected for generations to come."
Age, rising sea levels, and poor drainage have taken a toll on the Tidal Basin and West Potomac Park seawalls. Portions of the seawalls have settled as much as five feet since their initial construction from the late 1800s to the early 1900s. As a result of this settlement and sea level rise water flows over portions of the seawalls twice a day during normal tidal conditions. Despite various repairs over the decades, the seawalls are no longer structurally sound and threaten visitor safety and the historic setting, including the iconic cherry trees around the Tidal Basin.
The contract was awarded to Cianbro Construction of Pittsfield, Maine on August 29. The project will rehabilitate approximately 6,800 linear feet of seawall and extend its life expectancy by approximately 100 years. Construction on the project is expected to begin in mid-2024. Repair of the Tidal Basin and West Potomac Park seawalls are part of nearly $500 million in planned infrastructure improvements on the National Mall prior to the 250th anniversary of American independence in 2026. The repairs will include:   
removing and reconstructing the existing stone masonry seawalls to include a pile-supported platform foundations that will prevent the seawalls from settling, and support height extensions of the walls if needed due to future rising sea levels or increasing storm surge;  
salvaging and reusing stones from the historic wall in the rehabilitated seawalls, when possible;
repairing, or replacing, and widening walkways around the Tidal Basin to provide smoother, more accessible connections to other pathways; and
regrading landscaping adjacent to the seawalls as necessary to provide proper drainage.
GAOA's National Parks and Public Lands Legacy Restoration Fund is part of a concerted effort to address the extensive maintenance backlog in national parks. Supported by revenue from energy development, the fund provides up to $1.3 billion per year for five years to the National Park Service to make significant enhancements in national parks to ensure their preservation and provide opportunities for recreation, education, and enjoyment for current and future visitors.  
###
Last updated: August 31, 2023