Be a Part of the World's Largest National Park Service Emblem to Celebrate 100 Years of National Parks!
Date:
August 5, 2016
Contact:
Mike Litterst
, 202-245-4676
Contact:
Dorothy Fuchs
, 410-637-8337
Contact:
Lisa Coster
, 410-442-3734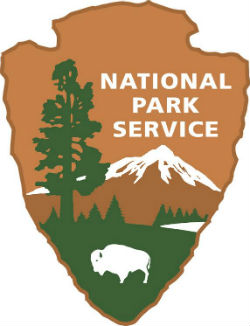 Washington –On August 25, 2016, National Mall and Memorial Parks will assemble more than 1,000 participants into a living version of the National Park Service's iconic Arrowhead emblem. The event takes place on the 100th anniversary of the creation of the National Park Service and the public is invited to join National Park Service employees, volunteers and partners in this once-in-lifetime centennial celebration.
Participants are asked to
pre-register
 and assemble on the west side of the Washington Monument at 9 a.m. on August 25. At 10 a.m., the Living Arrowhead will be assembled using brown, green and white umbrellas to create the emblem (so the event will take place rain or shine!). Once the Arrowhead is formed, an aerial photograph will be taken of the Living Arrowhead and shared with participants on the National Mall and Memorial Parks website and social media pages. The first 1,000 participants to arrive will receive a t-shirt commemorating their participation in this historic event, as well as get to keep their umbrella. Don't miss out –register today and be a part of the Centennial Living Arrowhead! 
The Arrowhead was authorized as the official emblem of the National Park Service by the Secretary of the Interior on July 20, 1951. The elements of the emblem symbolize the major facets of the national park system. The Sequoia tree and bison represent vegetation and wildlife, the mountains and water represent scenic and recreational values, and the arrowhead represents historical and archeological values. Along with the ranger uniform, the arrowhead is the principal means by which the National Park Service is identified by the public. 
# # #  
Last updated: August 5, 2016