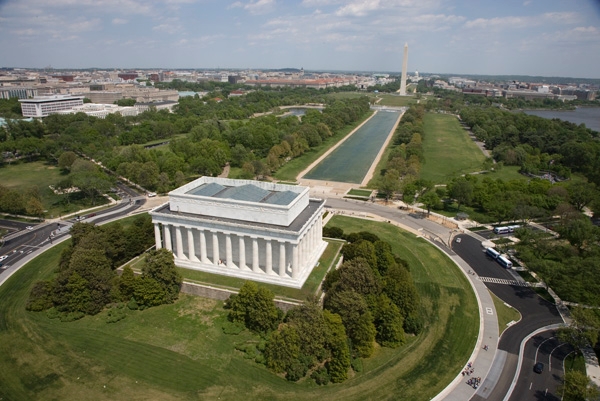 News Release Date:
June 14, 2017
Contact: Mike Litterst, 202-245-4676
Washington – The National Park Service is accepting comments from the public on proposed rehabilitation work at the Lincoln Memorial. The project would allow visitors to view the area below the memorial (known as the undercroft) in order to expand the overall interpretive and educational experience of the site, as well as improve accessibility, visitor services, and the efficiency of park operations. Comments are being accepted on the
project website
through July 10.  
A public meeting to introduce the plan and answer questions about the project will be held at the National Park Service's National Capital Regional Headquarters (1100 Ohio Drive SW). The open house format meeting will take place on Tuesday, June 27, 2017 from 6 pm – 8 pm and comment forms will be available.  
The purpose of this project is to rehabilitate the Lincoln Memorial for the centennial anniversary of its dedication in 2022. During the initial planning process, five alternatives (including one that calls for no action) have been developed that address the following areas of the memorial at varying levels: accessibility, restrooms, retail space, interpretive opportunities (including the undercroft), operations of the memorial, preservation of the original building material, and ingress/egress from the site. Additional details of the proposals, including a comparison of the various alternatives, is available on the project website at
parkplanning.nps.gov/LincolnMemorialRehab
.  
How to Comment
The preferred manner for providing comments is via an online form through the National Park Service Planning, Environment, and Public Comment website, used by the agency to manage official correspondence and analyze public comment in the planning process. From the project website (
http://parkplanning.nps.gov/LincolnMemorialRehab
), navigate the menu on the left hand side of the page to "Open for Comment," then open the "Scoping for the Lincoln Memorial Rehabilitation" folder. The green "Comment Now" button will take you to the online form.  
Comments may also be submitted in writing to:  
Superintendent Gay Vietzke                                     
National Mall and Memorial Parks
900 Ohio Drive, SW
Washington, DC 20024
ATTN: Lincoln Memorial Rehab
Comments must be entered into the website or postmarked by
July 10, 2017
to receive consideration.  
Please be aware that the entire comment submitted – including personal identifying information such as address, phone number, and email address – may be made publicly available. Requests to withhold such personal identifying information from public release will be considered, but there is no guarantee that they will be withheld.  
-NPS-