National Park Service Removing Graffiti at Lincoln Memorial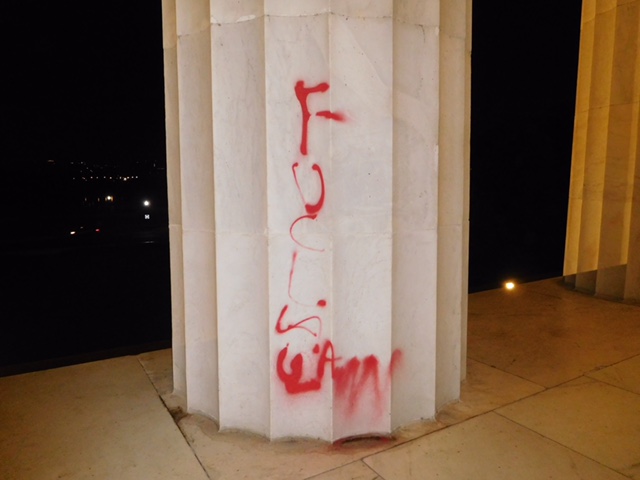 News Release Date:
August 15, 2017
Contact: Mike LItterst, 202-245-4676
Contact: Sgt. Anna Rose, 202-619-7266
Washington – The National Park Service is actively working to remove graffiti from the Lincoln Memorial that was discovered at approximately 4:30 a.m. on Tuesday (August 15). The graffiti, which appears to have been done with red spray paint, appears to state "[expletive] law." An additional act of undecipherable vandalism in silver spray paint was also discovered on a Smithsonian wayfinding sign in the 1400 block of Constitution Avenue.
The National Mall and Memorial Parks monument preservation crew has already begun to remove the graffiti at the Lincoln Memorial, using a mild, gel-type architectural paint stripper that is safe for use on historic stone. The treatment is applied and allowed to set on the stone for about an hour, then rinsed with clean, potable water. After each application, the condition will be reviewed to determine if additional applications are necessary. Treatments will be applied as necessary until all evidence of the graffiti is gone.
The United States Park Police is investigating the incident; anyone with information is asked to contact them at 202-610-7515.  
# # #
Last updated: February 6, 2018