National Park Service Removing Graffiti at Four Memorials Along the National Mall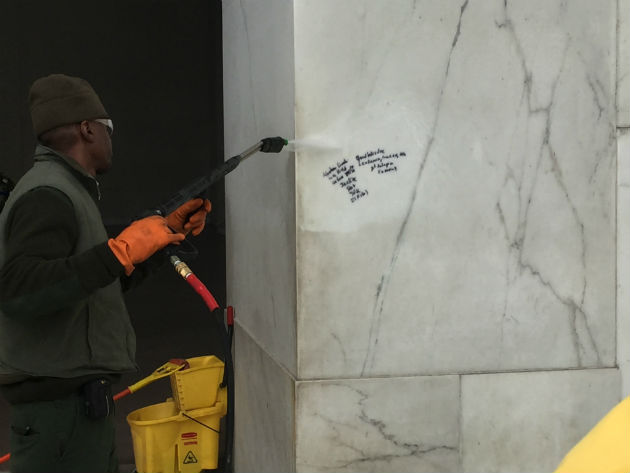 News Release Date:
February 21, 2017
Contact: Mike Litterst, NPS, 202-245-4676
Contact: Sgt. Anna Rose, USPP, 202-619-7266
Washington – The National Park Service is actively working to remove five acts of vandalism to memorials along the National Mall, including two instances at the Lincoln Memorial, and one each at the Washington Monument, World War II Memorial and D.C. War Memorial.
The vandalism appeared at the Lincoln Memorial at approximately 11 p.m. on Saturday night (February 18). The graffiti, which appears to have been done with permanent marker, includes several lines of text and is similar at each of the memorials. The vandalism does not appear to be racially or politically motivated. Additional acts by the same vandal have also been discovered on street signs and utility boxes at other locations along the National Mall.
The National Mall and Memorial Parks monument preservation crew is removing the graffiti using a mild, gel-type architectural paint stripper that is safe for use on historic stone. The treatment is applied and allowed it to set on the stone for about an hour, then rinsed with heated, pressurized water. After each application, the condition is reviewed to determine if additional applications are necessary. The Lincoln Memorial, Washington Monument and World War II Memorial locations were successfully treated on Tuesday; treatments will be applied at those locations as necessary and at the D.C. War Memorial on Wednesday and in the succeeding days, until all evidence of the graffiti is gone.
Anyone with information about the vandalism is asked to call the United States Park Police at 202-610-7500.  
Last updated: February 21, 2017