Visiting in Summer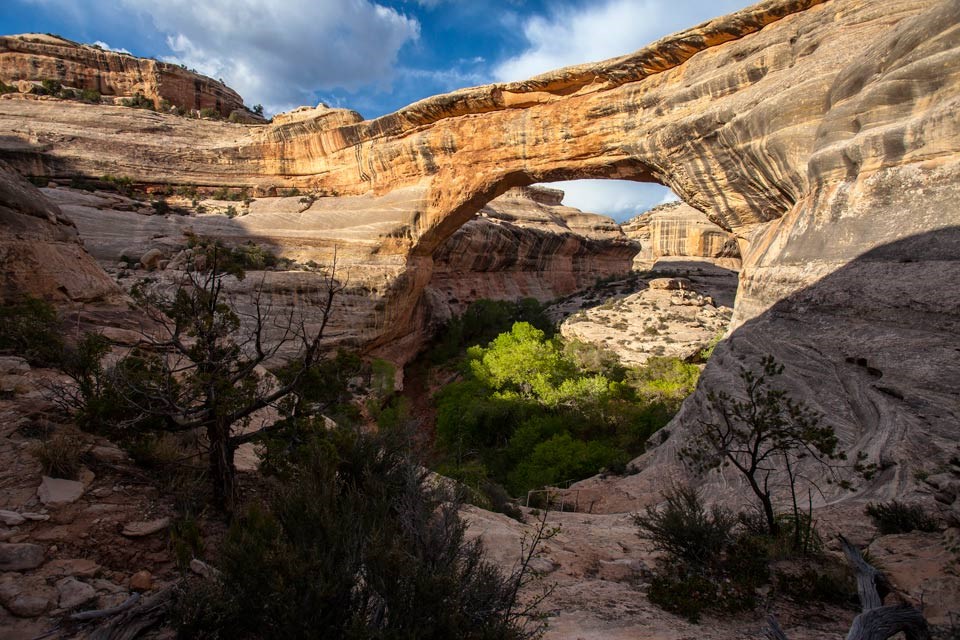 Summers at Natural Bridges are hot and dry, with temperatures often reaching the high 90sºF and over 100ºF. Early June is biting gnat season. Late July to early September is monsoon season. Visitors should plan wisely to avoid high temps and thunderstorms.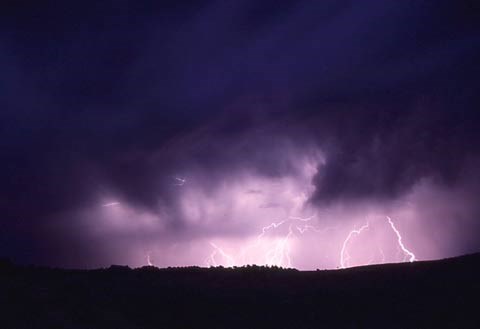 What You Need to Know
Visitors should prepare for extreme summer conditions in the high desert.
Weather
Summer temperatures often exceed 100ºF (38ºC), making strenuous exercise difficult. Late summer monsoon season brings violent storm cells, which may cause flash floods. Check the weather forecast for updated conditions.
Summer Safety
Plan to hike early and drink plenty of water, eat salty snacks, and wear sun protection. Learn more about hiking safety. Finish hiking in the morning during monsoon season to avoid possible afternoon lightning and flash flooding. Tent campers should have rain flies and be prepared for flooding conditions.
Water
Water is available in the visitor center and the water spigot in the visitor center parking lot. Visitors are limited to 5 gallons (19L) of water per person per day. Water is not available at trailheads or in the campground.
Visitor Center
The visitor center is open every day in the summer. Check our hours page for current times.
Campground
The campground is open year-round and is first-come, first-served. The campground usually fills up by noon every day in the summer. Tent campers should have rain flies and be prepared for flooding conditions. Check the fees page for camping fees.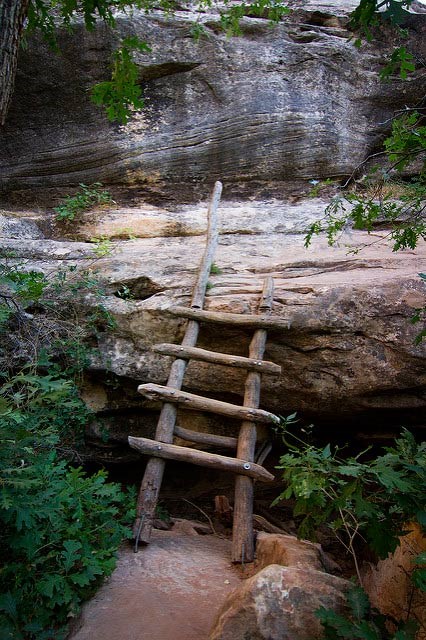 Things to Do
Hiking
We highly recommend hiking early in the morning and being off trail by noon to avoid afternoon monsoon rains. Be aware that temperatures may already be 70ºF (21ºC) or higher by 8 am.
The hike to Owachomo Bridge is the most popular trail in the park because it is most easily accessed bridge. The hikes to Sipapu Bridge and Kachina Bridge require at least an hour time investment and offer very little shade from the bright summer sun. In the summer, any of the loop trails should only be attempted by well-prepared, experienced hikers due to the risk of dehydration and heat exhaustion.
During monsoon season, trails may be muddy. Sipapu Bridge, Kachina Bridge, and all loop trails may be slippery - hiking poles are recommended. The ladders on the Sipapu Bridge trail and the Kachina Bridge trail may be slippery.
Stargazing
Natural Bridges is the world's first International Dark Sky Park. Stargazing is a must if the night is clear. Nights are cooler but typically not cold. Although cloudy skies are common, mid-summer is perfect to spot the Milky Way arching overhead. Visitors are welcome to stargaze from their campsite, the visitor center parking lot, or on trails. The more adventurous can hike to Owachomo Bridge to watch the Milky Way behind the bridge. Astronomy programs are typically offered in summer, weather permitting. Check our stargazing page for more information and events.
Ranger Talks
Rangers give a variety of talks in the summer. Ranger-guided walks may be postponed in the height of summer to avoid extreme weather. Call the visitor center for programs and times.
Other Activities
Kids (and adults!) can earn a Junior Ranger badge by completing activities in the Natural Bridges Junior Ranger Booklet [1.5 MB PDF file]. Booklets are also available in the visitor center.
The 10-minute park film is available upon request in the visitor center.
Last updated: July 11, 2018