Ranger Programs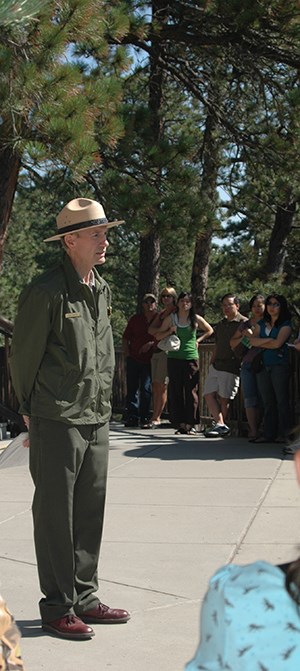 You do not need a reservation for any programs at Mount Rushmore, including the Evening Lighting Ceremony.
Ranger Talks (30 minutes)
Free
These programs begin at various locations throughout the memorial. Programs are offered each day throughout the summer months. Schedules are posted at the Information Center.
Evening Program (20 minutes - weather permitting)
Free
Join a park ranger for a ten minute ranger talk, a playing of the national anthem, the lighting of the memorial and a flag folding demonstration. Program held nightly late May through the end of September.
Lakota, Nakota and Dakota Heritage Village (10 - 30 minutes)
Free
Explore the history of the Black Hills and the American Indian tribes who have populated this land for thousands of years. Located next to the Borglum View Terrace for 2019, this area highlights the customs and traditions of local American Indian communities. Open 10:30 a.m.. to 3:00 p.m.. early June through mid-August, weather permitting.
Youth Exploration Area (10 - 30 minutes)

Free
Explore the natural, cultural and historical aspects of Mount Rushmore with interactive programs. Located at the Borglum View Terrace for 2019. Open early June through early August.
Self-Guided Tour (30 - 120 minutes)
Rental Fee Charged
Rent an audio tour wand or multimedia device to hear the story of Mount Rushmore through music, narration, interviews, historic recordings and sound effects while walking a scenic route around the park. Available at the Audio Tour Building across from the Information Center (rentals available inside the Information Center during the winter months). The tour and accompanying brochure are available in English, French, German, Lakota, and Spanish.
Last updated: April 5, 2020