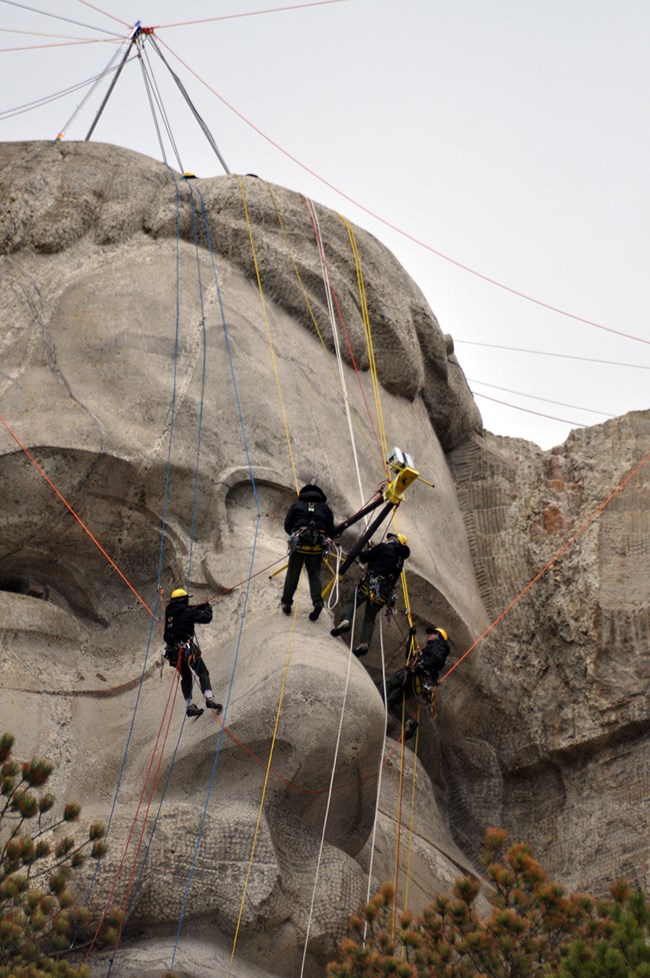 Online Digital Portal
Mount Rushmore National Memorial, in partnership with the Kacyra Family Foundation and CyArk, is proud to present an online digital portal filled with multimedia materials created from the 2010 3D laser scanning project of the mountain. The online digital portal is free to the public and features an array of material including an interactive virutal tour of the memorial, navigable and measurable 3D "point cloud" models comprised of the billions of points collected by the laser scanners and a large collection of videos and photographs.
2010 Digital Scanning Project
In 2010, Mount Rushmore National Memorial embarked on a ground-breaking three-dimensional laser scanning project. Memorial staff used the latest laser scanning technology to create a highly detailed record of the sculpture and other historic resources at the park.
The value of the 3-D scanning provides realistic digital information of the site and provides opportunities for innovative and interactive public interpretation, education, research and security programs. In the event of an incident resulting in the damage of the sculpture, the data would provide the information necessary to accurately replicate carved surfaces. The digital data will also give the National Park Service the ability to develop a very realistic interactive model for Mount Rushmore for education and interpretation including potential "virtual tours" of the memorial, as well as the entire site.