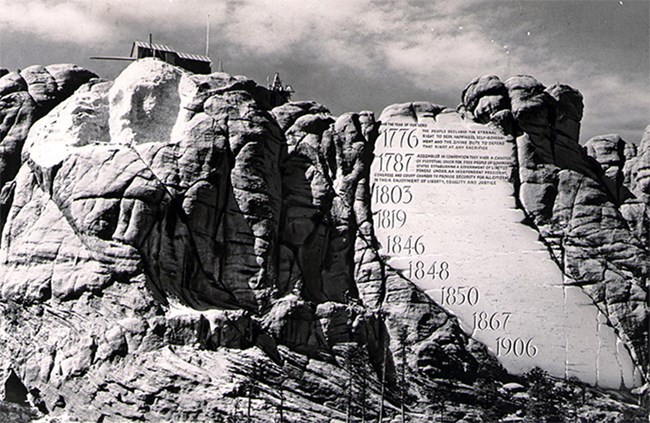 Plans For An Inscription
Original plans for the carving of Mount Rushmore included a large inscription called the Entablature. The sculptor of Mount Rushmore, Gutzon Borglum, intended to carve the Entablature in an area shaped like the territory of the Louisiana Purchase using large, three-foot tall letters.
Carving The Entablature
The Entablature was to be a brief history of the United States, symbolized by Washington, Jefferson, Roosevelt and Lincoln, carved beside the four faces. The Entablature would emphasize that Mount Rushmore was a national memorial, commemorating the first 150 years of the United States, not just the lives of the four great men.
The Entablature was begun in 1930, when the year 1776 was carved into the eastern side of the mountain. However, in 1934, due to inconsistencies in the rock, the Thomas Jefferson figure was relocated from Washington's right to Washington's left. As a result of the recomposition, the Entablature location had to be used for the Lincoln figure. Borglum also concluded that the words on the Entablature were going to be too difficult to read from below. Thus, it was decided that the inscription of historical events would go inside the Hall of Records, a room behind the sculpture, rather than on the front of the mountain. Gutzon Borglum died in 1941 before plans for the inscription were finalized.