News Release
Hike Monocacy National Battlefield's newest trails on August 25!
Date:
August 17, 2023
Contact:
Tracy Evans
, 301-662-3515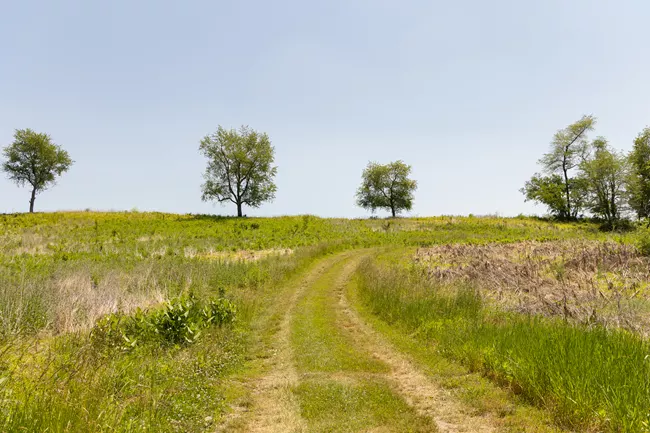 FREDERICK, Md.— Celebrate the National Park Service's (NPS) birthday at Monocacy National Battlefield with a hike on our new and improved trails! On August 25 at 10 a.m., the park will officially open two new trails and a revitalized trail system with a project orientation followed by park ranger-guided hikes.  
The park has been working all summer to improve almost eight miles of trails, and visitors can expect wider and safer trails; easier access with updated, accessible trail signs and trail markers; and over two miles of brand-new hikes to enjoy.  
Join us for the activities: 
10 a.m. at Gambrill Mill (4801 Urbana Pike/MD Route 355). Learn about the project, the new trails and the work the park is doing to increase accessibility.  
10:30 a.m. Meet rangers at Gambrill Mill or Upper Gambrill trail heads for a guided hike of the park's newest trails.  
The new Upper Gambrill Trail is a 1.6-mile route that climbs a hill above Gambrill Mill and provides a great scenic view of the battlefield. The Thomas Farm Trail has been extended nearly 0.2 miles, offering expansive views of the Thomas and Worthington farms. Trail work was completed by NPS staff and Appalachian Conservation Corps members. 
For the NPS birthday, the park invites visitors to celebrate with us and share their park stories and experiences at Monocacy. Do you visit every weekend to walk your dog, remember the first time you saw your favorite native bird along a trail, or were you sworn in as a Junior Ranger? We invite everyone to share their park stories by using #YourParkStory and #MyParkStory on social media.  
Monocacy National Battlefield trails provide access to the battlefield, the Monocacy River, a boardwalk through wetlands, upland forests, scenic views and a new overlook of the battlefield at Gambrill Mill. The network of trails at the park offers opportunities to hike, run, birdwatch, learn history and simply enjoy nature.   
Monocacy National Battlefield provides opportunities to enjoy the outdoors while preserving the site and stories of the Civil War Battle of Monocacy and those who fought that day. The park also tells the stories of those who lived on this land before and after the Civil War, including the families that owned the farms that now make up the park, the enslaved people who labored on the land, and Native Americans who lived here long before European settlement.   
You can learn more about the unique opportunities to learn and explore the outdoors at Monocacy National Battlefield on NPS.gov.  
Last updated: August 17, 2023