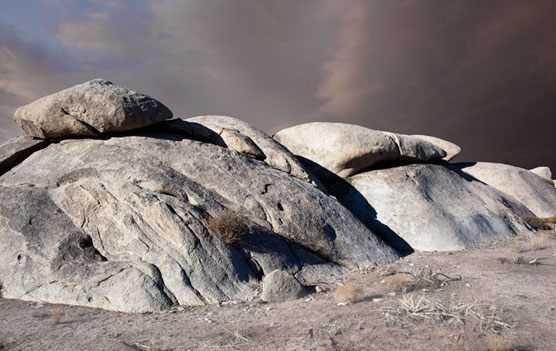 News Release Date:
January 18, 2010
Contact: Linda Slater, 760 252-6122
Mojave National Preserve invites desert travelers to experience the photography of Jim Smart in the Desert Light Gallery at the Kelso Depot Visitor Center. Smart's exhibit, Mojave: Near & Far, will be showing from January 23 to April 25, 2010. Visitors will have an opportunity to meet Jim Smart at an artist's reception, Sunday, January 24 from 1-3 p.m.
The Kelso Depot Visitor Center is 34 miles south of Interstate 15 at Baker, on Kelbaker Road, and is open every day from 9 a.m. to 5 p.m.; telephone 760 252-6108.
In Mojave: Near & Far, Smart explores the stunning scenery of the desert both at the landscape level and in detail, finding interest in uncommon perspectives and unique moments created by the desert's celebrated light.
Jim Smart has been taking photographic images for fifty years and had intended to let the digital revolution pass him by; but as an instructor in photo-journalism at CSU-San Bernardino, Smart fount that he could no longer avoid converting if he were to serve the students. So he set aside his treasured Leica and Hasselblad cameras and joined the digital age. Although he continues to shoot with film, many of the images in this exhibition were taken with a Canon 5D Mark II digital camera.
Limited-edition prints of Jim Smart's work will be available at the Western National Parks Association bookstore inside the Kelso Depot Visitor Center during the exhibition.