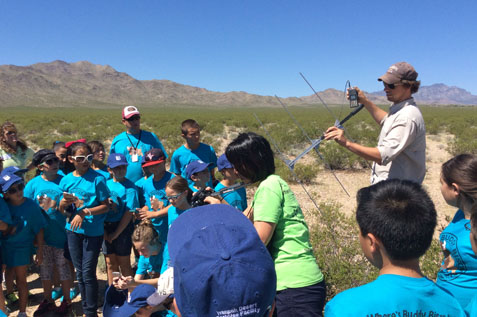 News Release Date:
September 5, 2014
Contact: Linda Slater, 760 252-6122
BARSTOW, Calif. – Yesterday Mojave National Preserve, in partnership with National Park Trust, Chevron and Molycorp, dedicated the Ivanpah Desert Tortoise Research Facility. Constructed in 2012 by Chevron on Molycorp land, the facility was managed until recently by National Park Trust. The dedication commemorates the transfer of the facility to Mojave National Preserve. As part of the event, students from Baker, California, and Henderson, Nevada, participated in tortoise education programming that included the release of juvenile tortoises raised at the facility.
"This new facility provides scientists the opportunity to test methods for increasing the survival of juvenile tortoises to reproductive age," said Stephanie Dubois, Superintendent of Mojave National Preserve. "This research could lead to the development of proven methods for recovering this species that continues to decline. We appreciate the work of our partners in making this facility a reality."
Designed specifically for scientists to conduct research into juvenile tortoise survival, the Ivanpah Desert Tortoise Research Facility includes a LEED Silver-certified laboratory building, two acres of predatorproof tortoise enclosures containing native vegetation, and seven acres of high-quality tortoise habitat.
"When we first started to design the facility in 2009, our goal was to give the research teams a place to study the desert tortoise in a protected, but natural environment," said Robert John, Vice President at Chevron Environmental Management Company. "Together with Mojave National Preserve, National Park Trust, and Molycorp, we have achieved that goal and made a positive contribution to the biodiversity of the region. "At the facility, scientists from the University of California−Davis and the University of Georgia aresearching the effectiveness of headstarting−raising juvenile tortoises in captivity to increase survival rates−and are developing repeatable protocols for this technique. Since the facility opened, 185 desert tortoise hatchlings have emerged within the protected facility and 46 have subsequently been released and are being monitored. For more information on the Ivanpah Desert Tortoise Research Facility, visit https://www.nps.gov/moja/naturescience/upload/tortoisefacility.pdf or watch the video.