News Release
Update: Some Roads to Reopen in Mojave National Preserve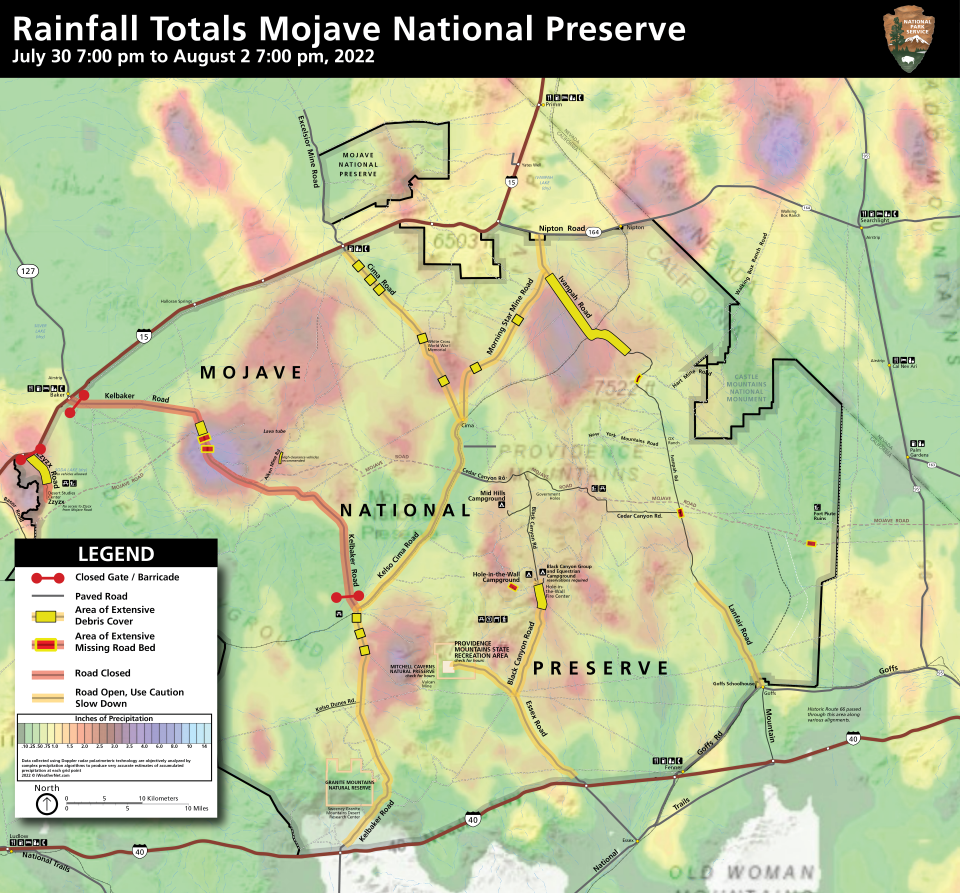 News Release Date:
August 12, 2022
Contact: Sierra Willoughby, 760-221-5310
KELSO, CA - Mojave National Preserve will reopen Cima, Kelso-Cima, South Kelbaker, Morning Star, Ivanpah, Essex, Black Canyon and Lanfair roads on Friday, August 12, 2022. North Kelbaker and Zzyzx Road will remain closed due to significant road damage. The Hole-In-The-Wall Visitor Center will also reopen and maintain normal hours.
On Sunday afternoon July 31, a strong storm cell formed over parts of Mojave National Preserve. Rainfall totals ranged between 3.4 to 4.5 inches in a period of a few hours in some areas. This is a 200-1000-year flood event based on weather data and resulted in widespread damage to paved and dirt roads throughout the preserve.  
North Kelbaker Road and Zzyzx Road sustained serious damage and will remain closed until repairs can be completed. A washout at "Seventeen Mile" on North Kelbaker Road may take months to repair. Over 100 feet of pavement and culverts washed away at that site and floodwaters eroded 3-4 feet creating a deeper channel. 
The Mojave Road, a historic trans-desert pathway, also sustained two significant washouts near Piute Canyon and at the North Kelbaker crossing at Seventeen Mile. The portion of the Mojave Road across the Soda Lake portion remains impassable due to the heavy rains. Additional rain may lead to closures as deep mud can strand even four-wheel drive vehicles which causes drivers to divert from the pathway and into closed or sensitive areas that leave long-term impacts.
Loose gravel, soft shoulders, and steep shoulder drop-offs are common on preserve roads now. Additional monsoon rains are forecasted, and travelers may find new debris on roads. Park staff caution motorists to drive cautiously while traveling through the preserve. 
Abundant rain and mild temperatures have transformed the normally dry landscape to bright green with new foliage. Wildlife sightings have also become a regular occurrence, particularly desert tortoise and bighorn sheep. Desert tortoises move out of their burrows to seek food and water in these conditions and can often be seen on roads after rain. We ask all travelers to
Drive Like A TortoiseTM
so that everyone can get to their destination safely, including wildlife. 
The map above shows the intensity of rain and current closures – which corresponded to the areas most impacted by flash flood. 
For the most current updates on closures and road status conditions in the park, please visit 
https://www.nps.gov/moja/planyourvisit/monsoon-recovery.htm
or follow Mojave National Preserve on
Facebook
,
Instagram
, or
Twitter
. Last updated: August 13, 2022