News Release
Update: Monsoonal Damage and Road Conditions in Mojave National Preserve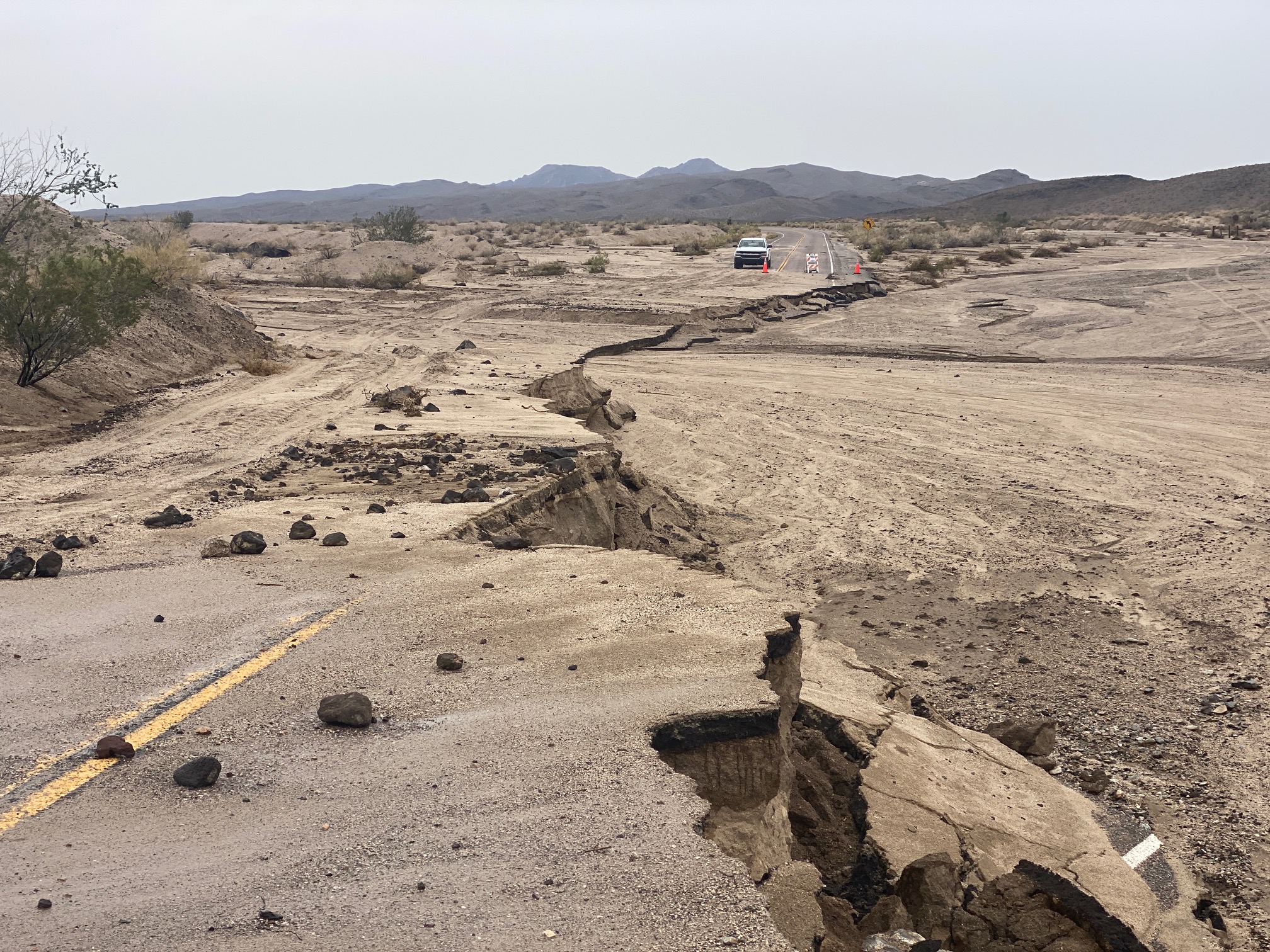 News Release Date:
August 5, 2022
Contact: Sierra Willoughby, 760-221-5310
KELSO, CA - All paved roads into Mojave National Preserve remain closed because of damage caused by flash floods on July 31 and August 1, 2022. Preserve roads sustained wide-spread water damage including washouts and undercutting. NPS staff continue to assess the extent of the damage and make temporary repairs or sign damaged areas.
Currently, Kelbaker Road, Cima Road, Essex Road, Zzxyz Road, Lanfair Road, Black Canyon Road, and Morning Star Road are closed and will remain closed until debris can be cleared from the roadways and the full extent of the undercuts can be assessed. Because of these road closures, the Hole-in-the-Wall Visitor Center will also be closed until further notice.
Heavy summer rains, known as monsoons, caused extensive flooding throughout Mojave National Preserve. Flooding washed out two sections of Kelbaker Road entirely. Many other roads have extensive debris on the roadway or are partially undermined. Park maintenance crews are working to clear and stabilize roads as safely as possible.
The National Park Service has an informational webpage where the public can get the latest updates. There is also an interactive map with site specific images of the road damage and locations. The NPS continues to update that map as additional information comes in.
We also remind visitors to
Drive Like A Tortoise
. Even small rain events can deposit debris on desert roads, undermine pavement, or create steep shoulder drop-offs. Wildlife are also more present after rain, particularly desert tortoise. "
Driving Like A Tortoise
allows everyone to see road hazards, help protect wildlife, and get to their destination safely," said Superintendent Mike Gauthier. 
For the most current updates on closures and road status conditions in the park, please visit
Monsoon Recovery page
or follow Mojave National Preserve on
Facebook
,
Instagram
, or
Twitter
. 
Last updated: August 5, 2022