Cima Dome Joshua Tree Forest Restoration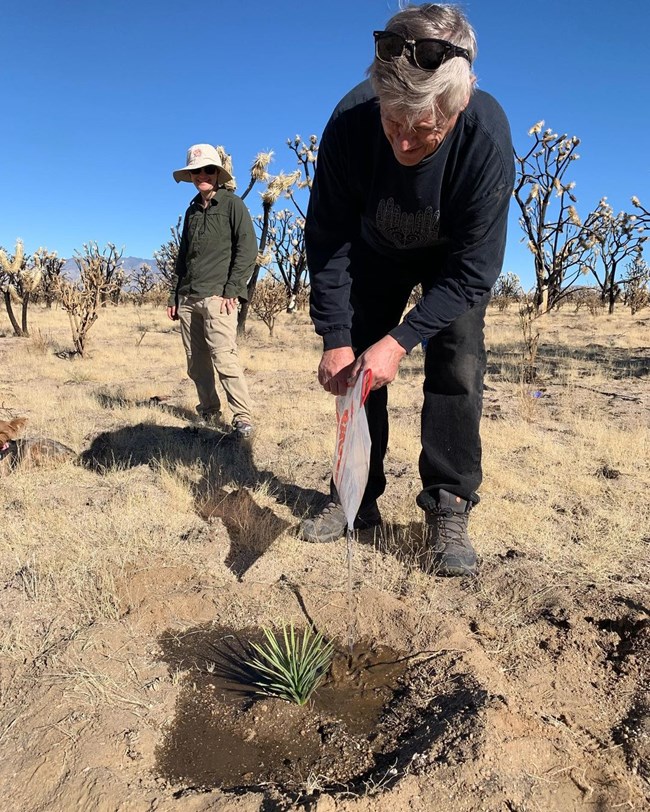 Help Water Joshua Trees on Cima Dome!
Background
In August 2020, the Dome Fire burned over 44,000 acres (~70 square miles) of one of the densest and largest Joshua tree forests in the world on Cima Dome. While assessing the damage to the forest, we noticed some areas with fairly low to moderate burn intensity with pockets of unburned islands. However, the burn intensity throughout most of the fire was catastrophic and nearly all aboveground vegetation was scorched and would not survive. We estimated that over a million trees were burned in the fire.
Cima Dome is modelled to be a climate refugia for the species. However, Joshua trees have poor seed dispersal and may only migrate about 100 feet for every 20 years. So the Mojave National Preserve is taking steps to ensure there are trees, and more specially a seed source, within the badly affected areas of the burn so they may reestablished naturally before the effects of climate change impact the recruitment and sustainability of the population on Cima Dome.
And that's where you come in!
You can Adopt a Joshua Tree planting site, water the newly planted seedlings, and report to the preserve on the current welfare of the plants.
Volunteers are recommended to have:
Comfort and experience with desert hiking
Ability to hike 3-5 miles
Ability to carry up to 30 lbs.
Ability to navigate and collect data by GPS and/or mobile apps
Ability to be self-sufficient while camping
If this is you, you're invited to SIGN UP HERE!

If you have any immediate questions or are unsure whether this is right for you, please email Andrew_Kaiser@nps.gov
  🚗🚰🥄🏕️🥾🦺✔️
Logistics Information
We will be setting up a base camp at Valley View Ranch where NPS staff will be camping for the duration of the event. We are asking volunteers to not camp here as we want to keep the area clear for morning briefing and getting materials. 
Please refer to the Cima Dome Camping Map to figure out a good place for you and your group based on your vehicle capabilities. There is no water or restrooms on at any of campsites, including Valley View, so please plan accordingly. There is cell phone service at Valley View and the campsites listed on the map for Verizon phones; however, AT&T is spotty. It is possible to get freezing temperatures on Cima Dome in December, so please plan accordingly. We will be sending out weather updates as the event approaches to make sure everyone is prepared. Fires are allowed in established dispersed campsites; however, people should refrain if it is windy. 
There is a gas station at the Cima Rd. exit off I-15; however, it can be pricey ($7.00+/gal). It's best to fill up in Barstow (if coming from LA) or Las Vegas, and then just get enough gas to get back. There is also reasonably priced gas in Searchlight, NV. The closest hotels are a little over 40 minutes away in Primm, NV.
From Los Angeles: Take I-15 North to Cima Rd. (Exit 272). Turn right (south) off exit. Drive for ~10.0 miles and take a right onto a gravel road which will have a orange cones with some pink flagging. Drive for about 1.67 miles until you reach Valley View Ranch. Make your way to the ranch house where I will be stationed for the duration of the event. 
From Las Vegas: Take I-15 South to Cima Rd. (Exit 272). Follow the directions above. 
From Kingman, AZ: Take US-93 North to AZ-68 towards Laughlin. In Laughlin, take NV-163 towards US-95. Drive north on US-95 towards Searchlight. In Searchlight, take a left onto NV-164 (Joshua Tree Highway/Nipton Rd.). Drive until you reach the I-15 and turn left (south). Take I-15 to Cima Rd. exit and follow instructions above.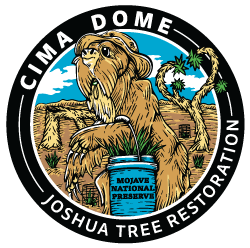 Files for Volunteers
Camping Map
Survey123.tpk
Map File
Volunteer Service Agreement
Last updated: June 24, 2022