Cima Dome Joshua Tree Forest Restoration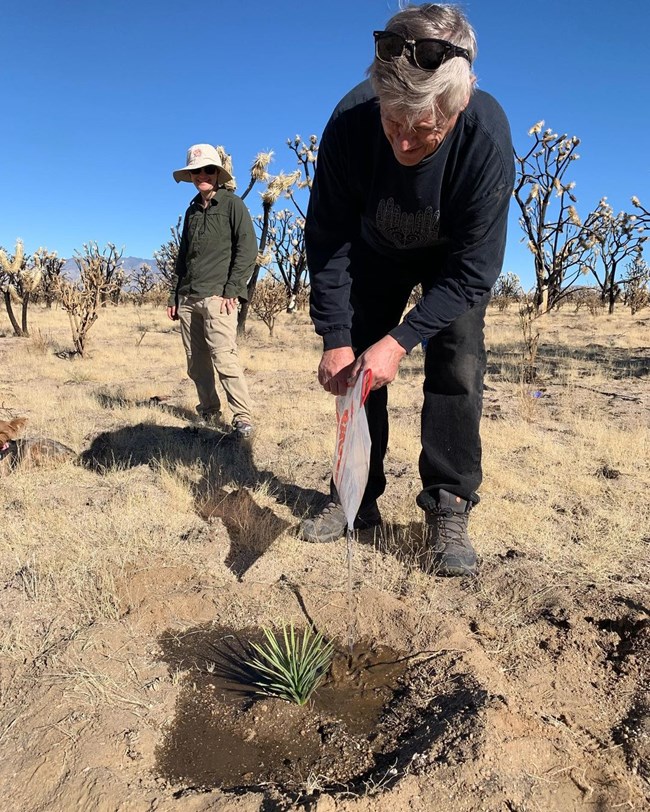 Help Plant Joshua Trees on Cima Dome!
Fall 2023 Event Schedule (Weekends in October 2023)
October 6th to 8th
October 13th to 15th
October 20th to 22nd
October 27th to 29th
Background
In August 2020, the Dome Fire burned over 43,000 acres (~70 square miles) of one of the densest and largest Joshua tree forests in the world on Cima Dome. While assessing the damage to the forest, we noticed some areas with fairly low to moderate burn intensity with pockets of unburned islands. However, the burn intensity throughout most of the fire was catastrophic and nearly all above ground vegetation was scorched and would not survive. We estimated that over a million trees were burned in the fire.
Cima Dome is modelled to be a climate refugia for the species. However, Joshua trees have poor seed dispersal and may only migrate about 100 feet for every 20 years. So the Mojave National Preserve is taking steps to ensure there are trees, and more specially a seed source, within the badly affected areas of the burn so they may reestablished naturally before the effects of climate change impact the recruitment and sustainability of the population on Cima Dome.
Volunteers are recommended to have:
Comfort and experience with desert hiking
Ability to hike 3-5 miles
Ability to carry up to 30 lbs.
Ability to navigate and collect data by GPS and/or mobile apps
Ability to be self-sufficient while camping
If this is you, you're invited to SIGN UP HERE!

If you have any immediate questions or are unsure whether this is right for you, please send an email to Erin Knight and Ryan McRae
  🚗🚰🥄🏕️🥾🦺✔️
Logistics Information
Cima Road is Currently Closed for Construction
 
Construction crews are working on the road Monday through Thursday and therefore we cannot allow any volunteers to drive the road between Monday morning and Thursday evening. Volunteers are allowed on Cima Road starting Thursday evening after 6 PM through Sunday night. Because the road is under construction caution is strongly advised, as many parts of the road have been reduced to dirt, or there may be rubble/construction equipment in the road or on roadsides. This information is subject to change, and we will be sending out updated information about a week before the event.On the day of your arrival, you will check in with NPS staff at Valley View Ranch. We will get you signed up as a volunteer, go over a few basic safety items, orient you to basecamp, and answer any of your questions.  

See go.nps.gov/MojaveRoads for latest road conditions
We will begin each day at 8 AM with a tailgate safety meeting. There will be a brief talk on the history of the Dome Fire and the previous year's planting, then volunteers will be grouped, given supplies, and planting locations. Groups will head out together towards their planting sites. This usually involves a little driving from Valley View. Planting sites will be assigned based on vehicle capabilities and how far of a hike you would like to do.  

NPS staff will help gather supplies and make sure each team has everything they need for a day of planting before leaving Valley View Ranch. Planting teams of 5-6 people will travel as a unit to designated planting areas. You will use a free smartphone app called Survey123 to help navigate to the site, record information on the planting, and take photos of the plants. There will be six Joshua trees planted at each planting location. Teams will hike from their parking location with all supplies needed for each planting group. This includes a bucket of Joshua tree seedlings, water, mesh cages, rebar, shovels or trowels, wiring, and ID tags. Most planting sites are within a couple miles of the road; however, there are some sites about 3 miles from the nearest road. Luckily, the terrain is fairly gentle and uniform (3-5% slope on average). The fire cleared out most vegetation, so hiking is mostly unobstructed, but there are shrubs coming back at this point, as well as unburned islands and boulder outcrops in some places.

Because of the construction on Cima Road, we will be doing half days of work on Sundays to ensure volunteers have enough time to pack up their camps and leave from Cima Road before construction crews start work on Monday morning. No volunteers will be permitted to use Cima Road Monday through Thursday evening due to the construction. All dirt roads are open to use even during the week.
We will be setting up a basecamp at Valley View Ranch where NPS staff will be camping for the duration of the event. We ask that volunteers do not camp here, as we want to leave the area clear for supply pickup. There are plenty of dispersed campsites on Cima Dome within a few miles of Valley View Ranch, and we can help direct you to the best ones. In previous years we were allowing volunteers to camp at the Cima Corral campsite, but we ask that volunteers do not camp here as we have construction crews living in the area and we want to be respectful of their privacy. There is a link at the bottom of this webpage for a PDF map of the main campsite locations.

Be prepared to be self-sufficient. There will be no water available at Valley View Ranch. The closest food options are the Cima Gas Station at the I-15 intersection, and then either Baker or Primm after that (at least a 45-minute drive from Valley View Ranch). There is cell phone service at Valley View and throughout most of Cima Dome; however, there are a few places with little or no coverage, mostly on the west side of the Dome. The Survey123 app works without cell service, as long as Location Services are turned on and you have the correct basemap installed.

Regarding weather, October can be extremely warm, cold, or in between. Be prepared for highs between 70-90 degrees, with lows between 40-60 degrees. This is not guaranteed. Please prepare for all weather. Generally, there is not much precipitation in October but bring supplies just in case. We will send out weather updates once the event approaches to make sure everyone is prepared. Currently, fires are not allowed in the Preserve, due to extreme heat and lack of precipitation, but this may change as the event gets closer.  

There is a gas station at the Cima Rd. and I-15 intersection, but it can be very pricey. It is best to fill up in Barstow or Las Vegas, depending on the direction you are coming from. There is also reasonably priced gas in Searchlight, NV.  

The closest hotels are about 45 minutes away in Primm, NV. Rooms are usually reasonably priced but it is not guaranteed.
From Los Angeles: 

Take I-15 North to Cima Road (Exit 272). Turn right (south) off the exit. Drive for ~10.0 miles and take a right onto a gravel road marked with orange cones. Drive for 1.67 miles until you reach Valley View Ranch.  

From Las Vegas 

Take I-15 South to Cima Road (Exit 272). Turn left (south) off the exit. Follow the rest of the directions above.  

From Kingman, AZ 

Take US-93 North to AZ-68 towards Laughlin. In Laughlin, take NV-163 towards US-95. Drive north on US-95 towards Searchlight. In Searchlight, take a left onto NV-164 (Joshua Tree Highway/Nipton Rd.). Drive until you reach I-15 and turn left (south). Take I-15 to Cima Road (Exit 272) and follow instructions above for the rest of the way.  
This is a suggested packing list. We may have some extras of field work items (like work gloves) but it is not guaranteed.  

Field Work Items 
Work gloves 
Backpack (or gear hauler if you have one!) 
Ability to carry water for the day (at least 3 liters) 
Closed-toe hiking shoes 
Hat 
Sunscreen 
Trowel or shovel 
Pliers 
Knife 
Personal First Aid kit 
GPS 

Camping Items 
Tent 
Sleeping bag (be sure to know its temperature rating!) 
Sleeping pad/cot 
Water 
Food 
Stove/fuel 
Lighter/matches 
Firewood 
Camp chair 
Kitchen utensils 
Headlamp/flashlight/lantern 
Warm clothes 
Rain jacket 
Chapstick 
Toilet paper 
Toiletries 
Games/cards 
Camp shoes 
Hand sanitizer and/or soap 
Charging devices with cords for electronics 
Trash bags 
Musical instruments 
 
Camping Map for Volunteer Event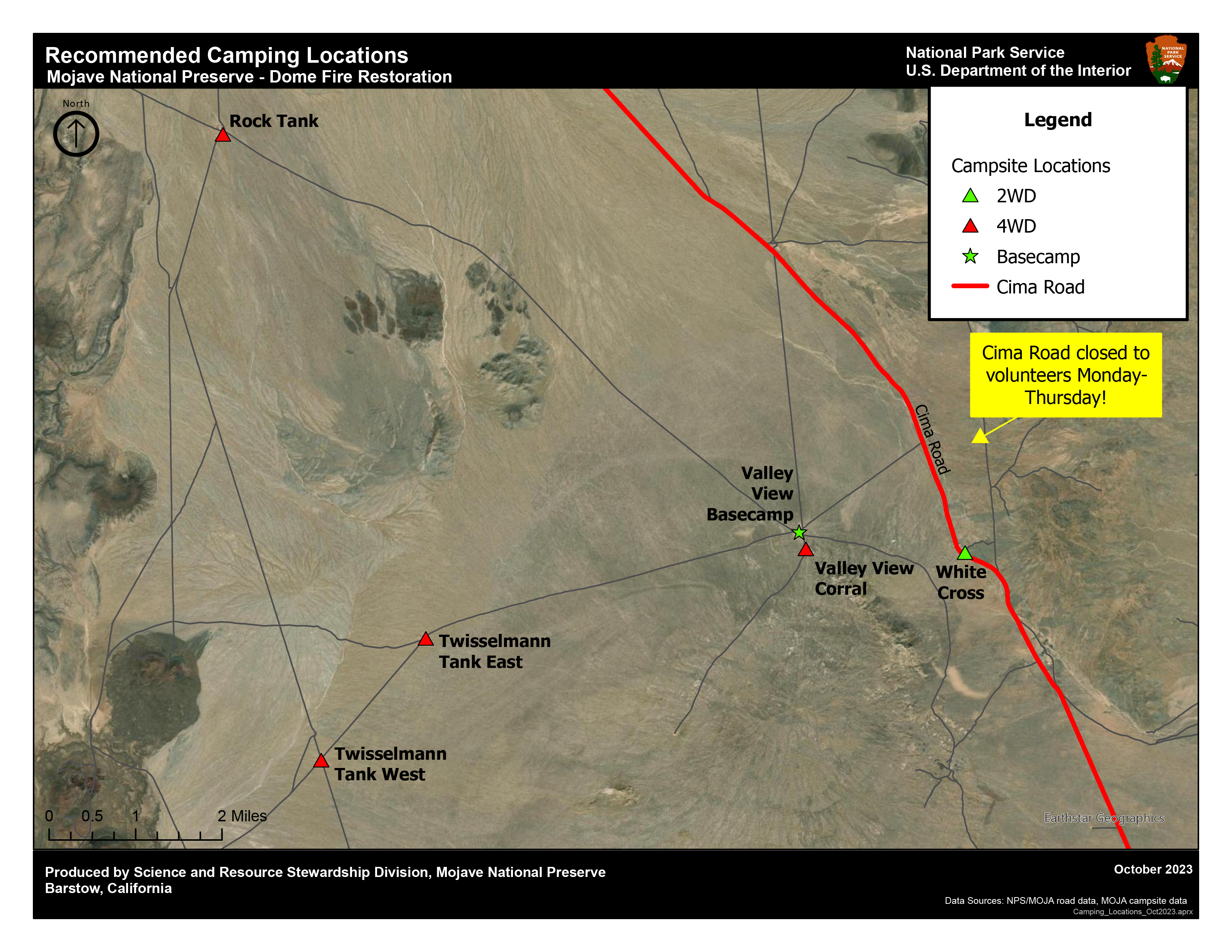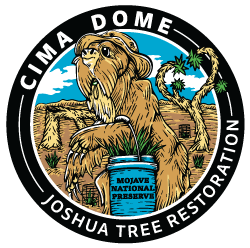 Files for Volunteers
Survey123 Setup Guide
Survey123.tpk
Map File
Last updated: August 11, 2023