Nature & Science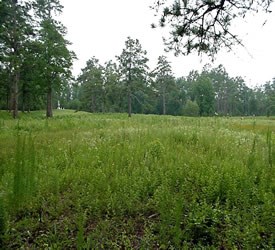 The park's 88 acres encompass a variety of landscapes ranging from dry pine forests to a small, wet-pine savanna. Moores Creek travels through the park and is a tidally influenced "black water" creek with considerable cypress growth. The park maintains checklists for birds and flowering plants. A boardwalk traversing the creek provides good locations to see migrating spring warblers and the park is part of the NC Birding Trail. Restoration work has been underway since 1996 on the savanna. More than 25,000 bunchgrass plants were introduced between 2003 and 2005 (Aristida stricta and Ctenium aromaticum). The savanna is burned using prescribed fire on a regular schedule to maintain the open habitat and improve habitat for state-listed plant species. Long-leaf pines are planted annually throughout the park.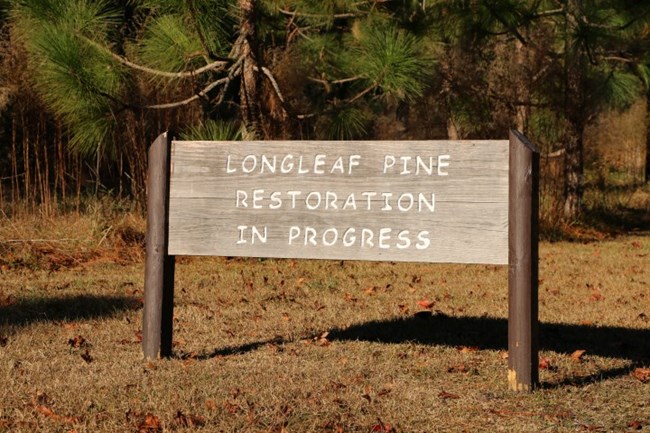 When entering the park, visitors may wonder why some of the grounds are overgrown. Moores Creek has a Maintenance staff who work hard to maintain your park. For those areas that appear to be overgrown, a closer look reveals a plan in action.
To provide the best experience for our visitors, we are changing the landscape to bring the visitor back in time. The area closest to the entrance is being allowed to grow for two reasons. First, we are trying to promote the growth of the Longleaf Pine tree, which used to cover vast expanses of the Southeastern part of the United States. Additionally, we are trying to make the colonial-era Negro Head Point Road more historically accurate. This road cuts through the park and was the major route for traveling between coast and this area of North Carolina.
While we make this transition, the park will go through many stages of change. Our hope is that the end result will provide a more meaningful and historically accurate experience of what this area would have looked like in the 18th century. We appreciate your feedback during this time of change. Any questions, comments, or concerns can be directed to any staff member at Moores Creek National Battlefield. Please enjoy your visit.
Park Ranger Nate Toering explains some basic differences between the Longleaf and Loblolly pines. He goes on to point out how important these resources were during the American Revolutionary War.

Duration:

2 minutes, 40 seconds
Moores Creek National Battlefield is also home to a variety of other plants. Click here for more!

Last updated: April 30, 2020