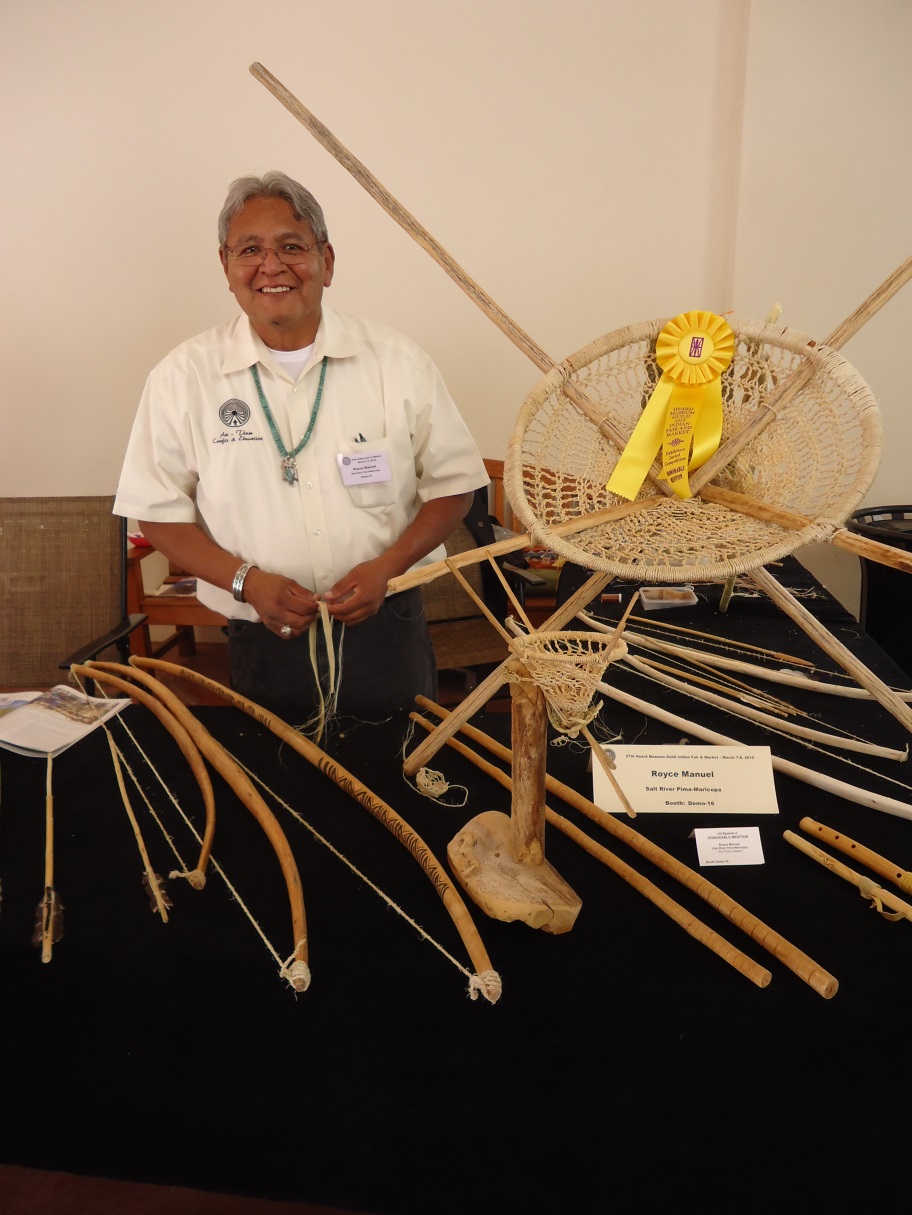 News Release Date:
March 16, 2015
National Park ServiceNews Release
For Immediate Release –March 16, 2015
Caleb Kesler, Chief Ranger, MOCA/TUZI, 928-567-3322 x227
O'odham Artist Royce Manuel to Demonstrate Traditional Agave
Fiber Arts and Technologies
CAMP VERDE, Ariz. –Royce Manuel
of the Salt River Pima-Maricopa Indian Community, Scottsdale, AZ., will
demonstrate traditional agave fiber cordage and other indigenous technologies
Sunday, March 29, 9 a.m. to 3 p.m. at Montezuma Castle National Monument.
In 2010 Mr. Manuel attended the Artist Leadership Program sponsored by the Smithsonian National Museum of the American Indian in Washington, D.C., where he conducted further research on artifacts associated with his tribe. In Washington, Mr. Manuel focused on the construction of the kiaha, or traditional Akimel O'odham (Pima) burden basket because, he said, there was no one left on the reservation who could explain the process.
After his research at the Smithsonian, the retired firefighter and tribal historian was able to collect and process the agave fiber and dried saguaro ribs needed to recreate the interlinked weaving technique. Mr. Manuel began the nine-month-long process of making a traditional O'odham burden basket with its open-work net design. For his accomplishment in reviving this lost art, Mr. Manuel was presented the 2013 Spirit of the Heard Museum Award. 
Mr. Manuel also specializes in other traditional O'odham arts, including bows, arrows, flutes, rattles, and baskets, replicating designs of the past as taught to him by his father, grandmother, and other family members. As a tribal historian, he creates traditional O'odham calendar sticks, which record historic events and serve as a memory aid for past occurrences. On March 29, he will share with Montezuma Castle National Monument visitors the artistry of these pre-industrial skills, especially the process of fabricating agave plant fiber cordage. 
The program is offered in recognition of Arizona Archaeology Month, held annually in March.There is no additional fee for the special
program, but there is an entrance charge to the monument of $5 per adult. Children 15 and under are free. All federal recreation passes are accepted, including Annual, Senior, Access, and Active-Duty Military passes. 
Montezuma Castle National Monument is located off Interstate 17 at 2800 Montezuma Castle Road, Camp Verde, AZ. The monument is open 8 a.m. to 5 p.m. every day except December 25. For more information, call 928-567-3322, extension zero.

--NPS--