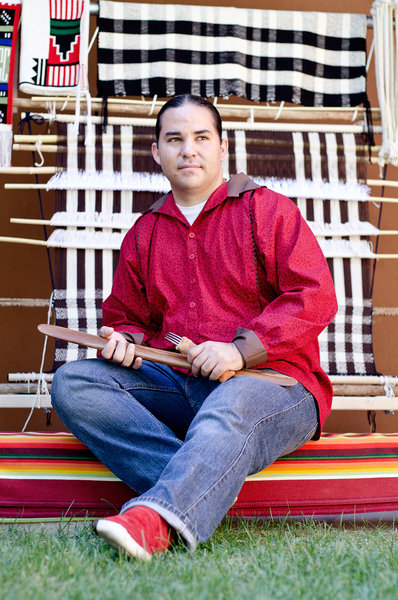 News Release Date:
November 11, 2014
Contact: Caleb Kesler, 928-567-3322 x227
 N
National Park ServiceNews Release
For Immediate Release –November 11, 2014
Caleb Kesler, Chief Ranger, MOCA/TUZI, 928-567-3322 x227
Native American Artists to Demonstrate Traditional Spinning, Weaving, Natural Dyes
CAMP VERDE, Ariz. –A gathering of Native American artists demonstrating traditional natural dyes and twill and belt weaving will be held Saturday, November 22, 9 a.m. to 3 p.m. at Montezuma Castle National Monument, Camp Verde, AZ.
Each cultural specialist will showcase an element of classic Hopi and Pueblo-style weaving: using a support spindle to create yarn;vertical looms to fashion complex twill blankets and belts;and a display and discussion of the plants and other natural materials utilized before pre-industrial dyes and fibers became widely available. Men are the weavers in traditional Pueblo society, creating the wedding robes, belts, kilts, wearing blankets, and mantas used in dances and special occasions.
Adkin Kuwanyaioma of Second Mesa weaves the complex diagonal twills found in textiles similar to those on display in the Montezuma Castle Visitor Center Museum. Twills differ from plain machine-made weaves in that the alternating patterns allow flexibility and create a fabric that is durable and air and water resistant. Hopi twill blankets were used as warm clothing for boys and men, and are traditionally made in patterns of natural white, black, and dark brown.
Nuvakuku Dawavendewa of lower Moenkopi specializes in natural dyes, including Hopi black sunflower, cochineal, and other materials. He also spins cotton and wool yarn, using a support spindle, and weaves complex twills.
Blayne Honanie of Kykotsmovi is one of several Hopi weavers who create the belts and sashes worn in katsina dances. Traditional colors include red, black, green, and white, and patterns are interwoven into the design of the belt through the weaving process.
Participating artists will alternate with informal talks and will be available for questions and answers. At noon Saturday, Pueblo weaver Louie Garcia (Tiwa/Piro) will give a special presentation on the influences and continuities of Mesoamerican weaving techniques and design. He will bring examples of textiles from Mexico and Guatemala and illustrate the relationship with Pueblo weavings from the American Southwest.
At 2 p.m., Mr. Garcia will address, "Enduring Connections:How Pueblo Textiles Sustain Cultural Traditions—Past to the Present." Mr. Garcia founded the New Mexico Pueblo Fiber Arts Guild in 2009, has been an artist in residence at the School for Advanced Research in Santa Fe, and teaches introductory Pueblo weaving as a part of the Pueblo Artist Workshop Series at the Indian Pueblo Cultural Center in Albuquerque.
The schedule for presentations will be:
10 a.m.:Blayne Honanie: "Hopi Belt Weaving"
11 a.m.:Nuvakuku Dawavendewa:" Natural Dyes: A Gift from Plants and the Process"
Noon:Louie Garcia: "Complexity of Design: Mesoamerican Influence in Pueblo
Textiles"
1 p.m.:Adkin Kuwanyaioma: "Hopi Twill Blankets"
2 p.m.:Louie Garcia: "Enduring Connections: How Textiles Sustain Cultural Traditions—
Past to the Present"
For beginning weavers, local textile artists Krystina Mucha and Susan Wilcox will have a hands-on area for children and other enthusiasts as the artists demonstrate the techniques of spinning yarn and the basics of weaving.
Regular admission fees apply, but there is no additional charge for the special programs. All Federal recreation passes are accepted, and children 15 and under enter for free. For further information, call 928-567-3322, extension zero. Montezuma Castle National Monument is located off exit 289, Interstate 17, at 2800 Montezuma Castle Road, Camp Verde, AZ 86322.
--NPS--