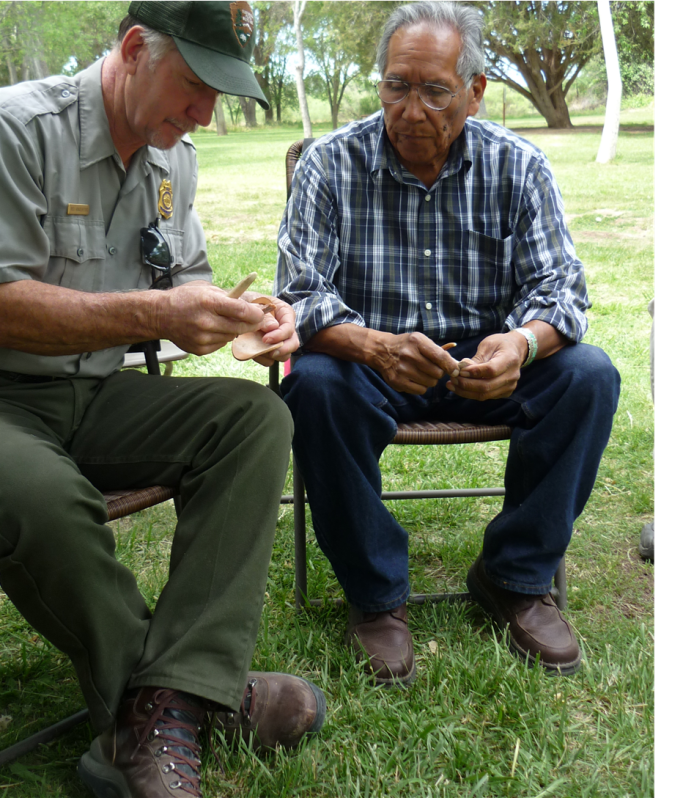 News Release Date:
May 12, 2014
Contact: Caleb Kesler, 928-567-3322 x227
National Park ServiceNews Release
For Immediate Release – May 12, 2014
Caleb Kesler, Chief Ranger, MOCA/TUZI, 928-567-3322 x227
Montezuma Castle to Host Program Exploring Ancient Technologies
CAMP VERDE—The art of stone tool flint knapping and other early hunting technologies will be demonstrated in a special Memorial Day program, May 26, at Montezuma Castle National Monument in Camp Verde, AZ. 
From 9 a.m. to 3 p.m., Amil Pedro of the Gila River Indian Community will demonstrate the steps used to create stone projectile points, bows, arrow shafts, atlatls and darts, and other devices utilized by people before the introduction of European-style weaponry.
Mr. Pedro was a recipient of the governor's Arizona Indian Living Treasure award, presented in 2006 for his role in cultural preservation. He is also an artist, and his murals are featured at the Huhugam Heritage Center, Maricopa, AZ., and the Wild Horse Pass Hotel on the Gila River reservation, south of Phoenix. Several of Mr. Pedro's works are in the permanent collections of the Smithsonian's Museum of the American Indian in Washington, D.C.
A resident of Bapchule, AZ., Mr. Pedro is retired from the Maricopa County Sheriff's Department where he specialized in locating missing hikers. Many of these skills, he said, reflect the traditional knowledge he received from tribal elders while growing up in the Gila River Indian Community. His cultural heritage includes Akimel O'ohham (Pima), Pee Posh (Maricopa), and Cahuilla of southern California.
There is no additional charge for this special program, which is in honor of all Armed Forces veterans, wherever they served. The fee for Montezuma Castle National Monument is $5 per adult 16 years of age or older. There is no charge for children 15 and younger. All Federal recreation passes are accepted including Senior, Access, Annual, and Active Duty Military.
Montezuma Castle, open 8 a.m. to 5 p.m., is located off Interstate 17, exit 289, 2800 N. Montezuma Castle Highway. The trail is a 1/3-mile, paved flat loop built for universal accessibility. For additional information, call 928-567-3322, extension zero.
--NPS--