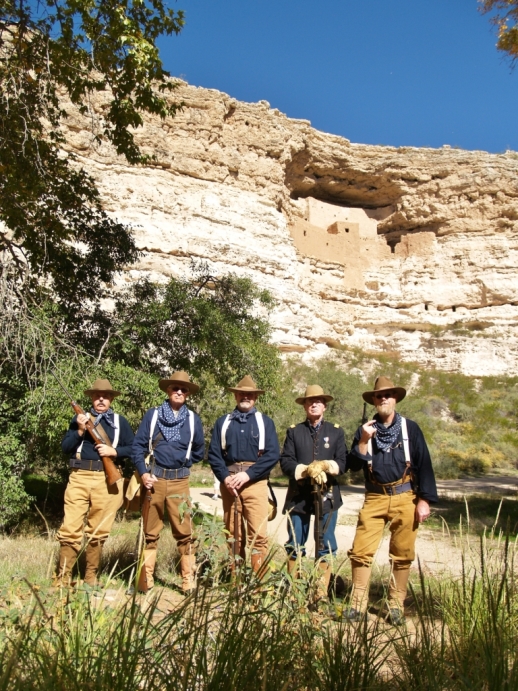 News Release Date:
October 1, 2012
National Park Service News Release
FOR IMMEDIATE RELEASE - OCTOBER 1, 2012
ED CUMMINS, CHIEF RANGER, MOCA/TUZI, 928-567-3322 X227
Living History Program at Montezuma Castle Commemorates Birthday of Theodore Roosevelt
Troop 1A of the Arizona Rough Riders Historical Association will be joining staff and visitors at Montezuma Castle National Monument, Camp Verde, AZ., on Saturday, Oct. 27, from 11 a.m. to 3 p.m., commemorating the birthday and accomplishments of President Theodore Roosevelt and the contributions of northern Arizona's all-volunteer "Rough Riders" of the Spanish American War of 1898.
From 11 a.m. to noon, presenters will discuss the legacy of Theodore Roosevelt, including his role in designating five national parks, 18 national monuments, and over 200 national forests, bird reservations, game preserves, and reclamation projects during his tenure as the nation's 26th President. Theodore Roosevelt proclaimed Montezuma Castle one of the nation's first four national monuments on December 8, 1906, along with El Morro and Petrified Forest. Devils Tower in Wyoming was the country's first national monument.
An additional guest speaker Dr. Paul Ferlazzo, Northern Arizona University professor of English, will discuss a little-known fact about Theodore Roosevelt - the president loved poetry and was a dedicated supporter of writers and the arts. Dr. Ferlazzo, a graduate of the University of Oklahoma, is a published authority on American literature.
Also during the morning session, members of the Rough Riders Historical Association will discuss Colonel Roosevelt's military career including recruiting, training, and leading the First Volunteer Cavalry of the Spanish-American War. The commemorative group will also deliver informal presentations on the war, the era, social mores, and contributions of northern Arizona's Troop A, the first volunteers in the country to fill recruitment quotas in 1898. Members of the Rough Riders Association include historians and educators who focus on history of the late 1800s and early 20th century.
The accomplishments of Prescott's William Owen (Buckey) O'Neill, first to volunteer and also the captain of Troop A, will also be a topic. Buckey O'Neill was a journalist, lawyer, judge, and mayor of Prescott. He also worked as a guide to Montezuma Castle, bringing visitors, photographers, and researchers to the Verde Valley. O'Neill served as adjutant general for the territory of Arizona, resigning this post to recruit and serve under the command of Col. Roosevelt. Captain O'Neill lost his life at the battle for the San Juan Hills in 1898. A bronze statue honoring O'Neill and the Rough Riders was dedicated at Courthouse Square in Prescott July 3, 1907.
From noon to 3 p.m. Oct. 27, visitors will have an opportunity to discuss the era with members of Troop 1A, and view period military gear, dress, and accessories appropriate for the era. The ladies of Troop 1A will also be in period dress and will focus on social customs and conventions of the late 1800s. The event is in honor of Arizona's Centennial.
Regular admission fees apply October 27, but there is no additional charge for the program. There is no fee for children 15 and younger and Federal recreational passes are accepted, including the senior, annual, military, and access passes. Montezuma Castle National Monument is located off exit 289, Interstate 17 near Camp Verde, Az., and is open from 8 a.m. to 5 p.m. except Christmas Day. For additional information, call 928-567-3322, extension zero.
-NPS-