Dorothy FireCloud To Be Installed As National Monuments Superintendent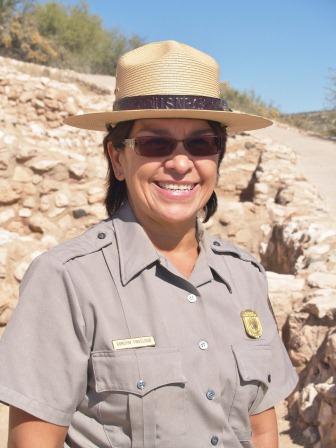 News Release Date:
November 1, 2012
National Park Service News Release
FOR IMMEDIATE RELEASE - NOVEMBER 1, 2012
ED CUMMINS, CHIEF RANGER, MOCA/TUZI, 928-567-3322 X227
Dorothy FireCloud To Be Installed As National Monuments Superintendent
Dorothy FireCloud will be officially installed as the new superintendent of Montezuma Castle National Monument, Montezuma Well and Tuzigoot National Monument on Thursday, November 15. The observance will be held at Tuzigoot National Monument in Clarkdale, Az., from 1 p.m. to 3 p.m., and will be open to the public.
Ms. FireCloud was most recently superintendent of Devils Tower National Monument in Wyoming. She received her Bachelor of Science from the College of Santa Fe, Juris Doctorate degree from the University of New Mexico School of Law, and has been a member of the New Mexico State Bar since 1991. An enrolled member of the Rosebud Sioux Tribe of South Dakota, her interests lie in the field of Indian law with a specialization in American Indian water rights issues.
Superintendent FireCloud began her legal career with the Department of Justice, US Attorney's Office and the Bureau of Indian Affairs Phoenix Office as a water rights specialist. Her work with southwest Native tribes has included developing the water rights program for the Pueblo of Zuni, and serving as the administrative officer for the Hopi Agency, Keams Canyon, Az. In 1998, she began her career with the U.S. Forest Service, Southwestern Region, as tribal relations program coordinator for the region. She was the team leader for the USFS National Implementation Team on Tribal Relations. In 2006, she accepted the position as superintendent of Devils Tower, the first National Monument in the United States. Superintendent FireCloud is married to Joe Prue, who is retired from the federal government. Her son, Sean King, lives at home and is a student at Camp Verde High School
Dorothy FireCloud continues the line of distinguished custodians and superintendents who have served at the National Park Service Verde Valley monuments, including local residents Glen Henderson of Cottonwood and Kathy Davis of Camp Verde. Superintendent FireCloud has oversight of the land, cultural, and natural resources of over 1,200 acres in the Verde Valley, with more than 35 employees and long-term volunteers assisting.
There will be no fee during the 1 to 3 p.m. open house at Tuzigoot, and the public is invited. For additional information, call 928-634-5564.
--NPS--
Last updated: February 24, 2015