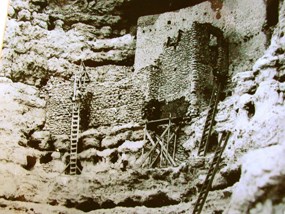 Because of its impressive size and remarkable preservation, it is easy to forget that the Castle is almost 900 years old. Because of its age, the Castle requires special attention to protect and maintain the original fabric remaining in the structure. Even with all the looting in the early 20th century, artifacts such as potsherds, corncobs and gourd fragments are still present.
Occassionally, the Castle undergoes stabilization work with a concerted effort to preserve all original material, such as adobe plaster with imprinted fingerprints. The first such work took place in 1933 under the direction of the monument's "custodian", Ranger Martin Jackson.
This restoration repaired much of the damage caused by looters, including the hole created after several pot hunters used dynamite to expose a hard-to-reach section of the Castle. This was also when many of the modern ladders, walkways and safety railings were installed to improve visitor access to the structure.