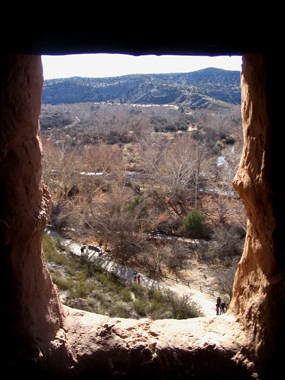 Peering through a window high on the fourth level of Montezuma Castle, you can watch as people explore the trails or gaze across the valley at Beaver Creek winding its way past the towering cliffs. On a busy day in the Monument, there may be several hundred visitors moving around on the trails below the Castle.
Was it that much different 700 years ago? What did it look like when this was a vibrant community of 300 individuals? Where were the corn fields? How many pit houses could you see from this window?
From 80 feet above on the cliff it is easy to pick out individual voices on the trails below. On any given day you may hear English, German, Dutch, Spanish and Japanese. What did the language of the Sinagua sound like? What did they talk about?