Vento View Overlook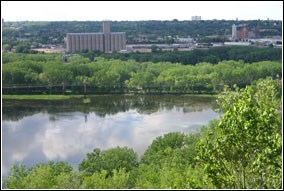 Introduction
The overlook is located in Cherokee Regional Park on a forested bluff overlooking the Mississippi River. There is a rather informal but relatively flat trail that leads to the overlook. For the more adventurous a hiking trail leads steeply downhill from the overlook into the Lilydale Regional Park. (NOTE: This trail is currently closed due to unstable slopes. Please do not cross barriers or enter closed areas.) This trail skirts along the edges of several mine pits and past the ruins of a brick kiln once used by the Twin City Brick Company (an area known as The Brickyards).
History
Bruce Vento held Minnesota's 4th Congressional District seat in the House of Representatives for over 23 years before his death from lung cancer in 2000. The Vento View Overlook and the Bruce Vento Nature Sanctuary commemorate his dedication to the environment.
Activities
Hiking; views of the Mississippi River valley, Pickerel Lake, and surrounding area. Birdwatching is a favorite activity here.

Saint Paul Parks and Recreation
Located at the intersections of Sibley Memorial Highway, Cherokee Heights Boulevard, and Annapolis Street West in St. Paul.
Hours, Directions, and Contact Information
394 E Kellogg Blvd, St Paul, MN
GPS: 44.952827, -93.074374
Nearby Sites
Lillydale/Harriet Island Regional Park, The Brickyards of St. Paul, Fort Snelling State Park, Mississippi River Visitor Center
Last updated: February 28, 2020