Sibley House Historic Site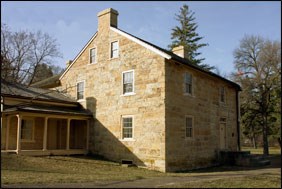 Overview
These four buildings are among the oldest in Minnesota and harken back to the days when Mendota was the center of the fur trade in Minnesota. Tours are provided several times daily during from Memorial Day to Labor Day.
History
The Sibley Historic Site contains some of the oldest Euro-American settlement buildings in Minnesota. Four distinctive limestone buildings remain across the river from Historic Fort Snelling. The buildings mark the American Fur Company's control over the region's important Dakota trade from 1825 to 1853.

The Henry Sibley house was built when Henry Sibley (Minnesota's first governor) was a young bachelor and regional manager for the fur company. The surrounding area evolved from an isolated trading post on the fringe of the United States, to an organized territory, before being granted statehood.
Activities
Visitors can take tours of the site and learn more about the history of Sibley and the fur trade.
Hours, Directions, and Contact Information
1356 Sibley Memorial Hwy, Mendota, MN 55150

GPS: 44.887879, -93.165957

See the Historic Sibley Site website for more information on what to do there.

The historic site provides tours daily from Memorial Day weekend through Labor Day.

There is an admission fee to this site.
Nearby Sites
Fort Snelling State Park
,
Historic Fort Snelling
,
Crosby Farm Regional Park
,
Lilydale/Harriet Island Regional Park
, ,
Minnehaha Regional Park
Last updated: February 28, 2020