Sibley House Historic Site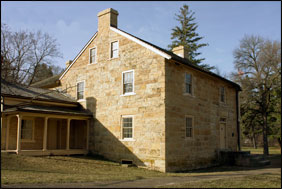 Overview
The Henry Sibley house was built when Henry Sibley was a young bachelor and regional manager for the fur company. The house changed as his family grew. The surrounding area was changed from an isolated trading post to an organized territory finally reaching statehood.
The Sibley Historic Site is the oldest Euro-American settlement in Minnesota. Four distinctive limestone buildings remain across from Historic Fort Snelling today. The buildings mark the American Fur Company's control over the region's Dakota trade between 1825 and 1853.
Activities: Visitors can take tours of the site and learn more of its history.
Hours: Hours vary by season and there is an admission fee to this site. See the Minnesota Historical website for more information.
Contact Information: Call the Minnesota Historical Society at (651) 452-1596.
Last updated: April 7, 2016