A Confluence of Dakota Indian History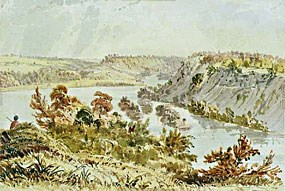 There is scant evidence that Coldwater Spring was a significant ceremonial site to the Dakota. However, there were
Dakota villages
on the lower Minnesota River and numerous
burial sites
.
Pilot Knob
, on the south bank of the Minnesota River is known to have been a ceremonial and burial site for the Dakota. It was also the location of the signing of the Treaty of 1851 between the Dakota and the US Government. That treaty opened much of southern Minnesota to white settlement and arranged for the relocation of the Dakota to reservations along the Minnesota River. Today, Pilot Knob is an excellent location for scenic views of the river valley, bird watching, and exploring the restoration of a native prairie.
To some accounts, the Mississippi itself was not a good place for permanent Dakota villages because it served as a pathway for warring tribes. The nearest village on the Mississippi was the village of Kaposia or Little Crow's village. This village was located about three miles downstream of Coldwater Spring. In early years, the village was on the east side of the river. After 1837 the village was moved to the west bank. Today, a
plaque
commemorating the village is located at the junction of Butler and North Concord.
Return to From Gunflints to Moon Rocks.
Last updated: April 10, 2015