From Gunflints to Moon Rocks: History of the Bureau of Mines Twin Cities Research Center
Introduction
Explore the history of Coldwater Spring through this series of mini-stories.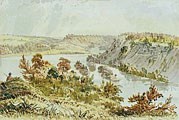 A Confluence of Histories
Dakota Indians frequented the Coldwater Spring area long before Europeans arrived. The strategic importance of the place to both the Dakota and Americans focused on the Mississippi/Minnesota Rivers confluence as a cross-roads for Indians and traders. Read more about the history of Coldwater Spring.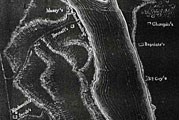 Minnesota's First Settlement
Soldiers had finished and moved into Fort Snelling by 1824. Drawn by the fort's presence, squatters established the community of Camp Coldwater around the spring and northwest along the Mississippi.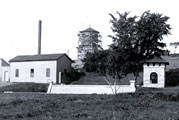 Water for 100 Years
On June 8, 1857, the U.S. Army sold Fort Snelling to Franklin Steele for $90,000 but bought it back only four years later with the start of the Civil War. Soldiers from Fort Snelling located initially at Coldwater Spring in 1820 for the fresh water supply.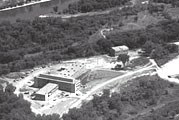 From Deep in the Earth to High on the Moon
As the American frontier closed and Americans realized the country's natural resources were not infinite, Congress responded to the concern over dangerous mining conditions and the waste of natural resources by establishing the Bureau of Mines at Coldwater Spring.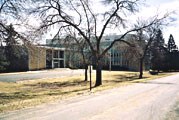 A New Chapter
After the closure of the Bureau of Mines, Congress authorized the Secretary of the Department of Interior to convey the Bureau of Mines property to a university or government entity as the "Secretary deems appropriate." The most appropriate entity was the National Park Service.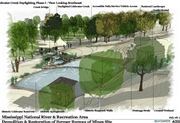 Landscape renderings were created in 2011, showing plans to restore the landscape to an oak savanna prairie and turn it into a public park.
Last updated: November 23, 2022