Special Events at Minute Man National Historical Park 2022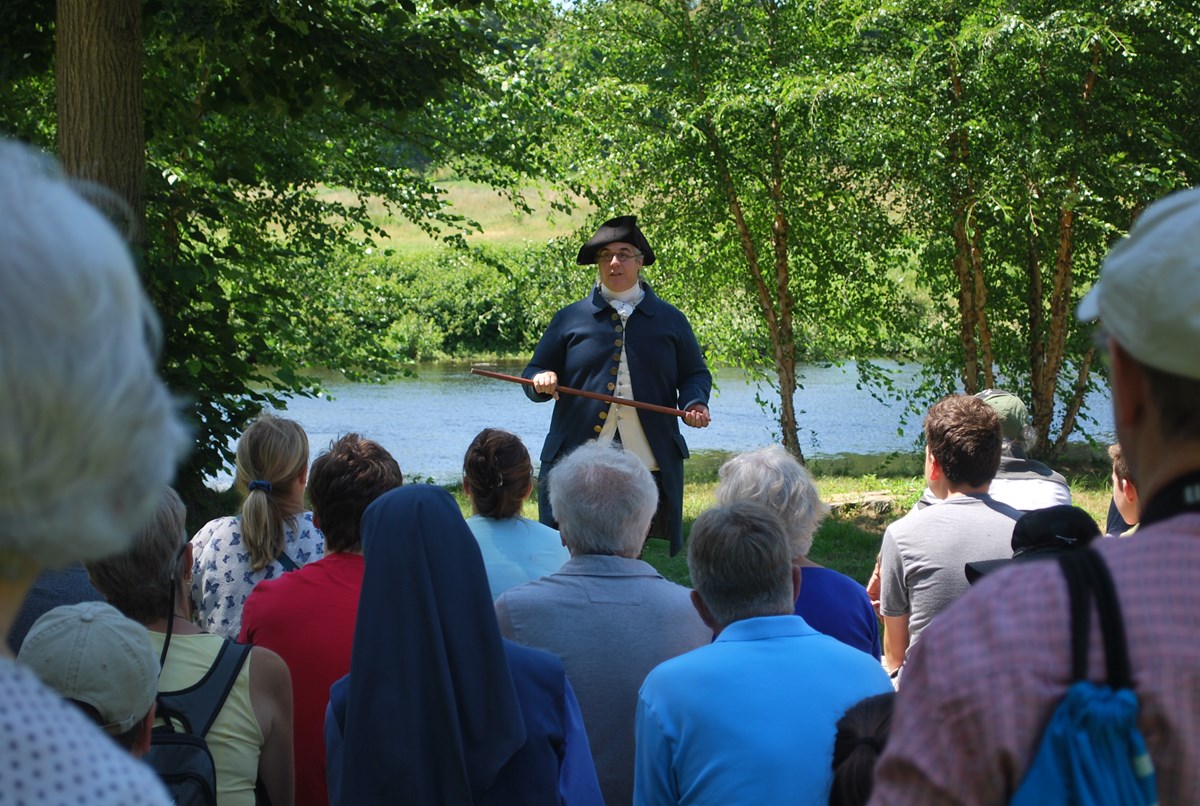 Explore the Elm Brook Hill Battle Site with Edmund Foster
Saturday, July 2
1:00 pm (45 Minutes)
Meet at Hartwell Tavern

Edmund Foster, a militiaman from Reading, Massachusetts (portrayed by park volunteer, Ed Hurley), will lead a tour to the Elm Brook Hill (Bloody Angle) Battle Site where he fought on April 19, 1775. He will be joined by Lincoln, Massachusetts historian and author Don Hafner.

Repeats September 3
Declaring Independence
Monday, July 4th
2:00 p.m. (30 Minutes)
Concord's North Bridge

Celebrate July 4th at Minute Man! Join park rangers and volunteers as we mark the 246th anniversary of our nation's independence with a live, in-person reading of the Declaration of Independence at Concord's North Bridge. Following the reading, reenactors representing the 10th Massachusetts Regiment will fire three musket volleys in honor of American Independence.
"The Terrific Array of War" Nelson Farm To Fiske Hill Battle Road Hike
Saturday, July 16
6:00 pm (2 Hours)
Meet at Minute Man Visitor Center parking area

Join a National Park Ranger to explore the final mile of the Battle Road Trail from Nelson Farm to Fiske Hill. In this short stretch of road on April 19, 1775, a battered detachment of British Regulars met stiff resistance from a growing force of Colonial Militia. This 1.5 Mile hike will follow in the footsteps of the British retreat through a carefully laid ambush by Parker's Company of Lexington Militia and the gauntlet of "plaguy fire" over Fiske Hill.

In partnership with the American Battlefield Trust

The British Redcoat
Sunday, July 17
11:30 and 1:00 (30 Minutes)
Minute Man Visitor Center

Far from home, the British Redcoat of 1775 was faced with numerous challenges at home and abroad. Join Park Ranger Roger Fuller, dressed in a British uniform, to explore the experience of the British soldier in 1775.
"Chiefly About War Matters"~ Concord and the American Civil War
(160
th
Anniversary of Hawthorn's Chiefly On War Matters)

Saturday, July 23
10 a.m. - 5 p.m.
Wayside: Home of Authors
Sponsored in partnership with the Friends of Minute Man National Park
Following the outbreak of Civil War in April 1861 hundreds of volunteers departed Concord, Massachusetts to defend their nation teetering on the verge of collapse. From the Battlefields of Virginia to the Hospitals of Washington D.C., Concordians contributed to the war effort in whatever ways they could.
By March of 1862 the Civil War had been going on for almost one year. Wanting to see the seat of war first hand, writer Nathaniel Hawthorne and his editor William Ticknor, took a month-long excursion to Virginia, Washington DC and Harpers Ferry. From out of their experience (including a meeting with President Lincoln) Hawthorne returned to the Wayside House in Concord and wrote a controversial essay entitled, "Chiefly About War Matters".
Join us on Saturday, July 23 at the Wayside: Home of Authors for a day of Civil War Living History, Wayside Open House, and special guest lectures by Park Ranger Nadia Peattie and Historian Richard Smith.
Schedule of Events:
10:00 a.m. ~ 5:00 p.m.Civil War Living History Vignettes and Wayside House Open
11:00 a.m.~ Louisa May Alcott and the United States Sanitary Commission- Nadia Peattie
2:00 p.m.~ "Chiefly About War Matters: Nathanial Hawthorne and the Civil War" ~ Richard Smith
5:00 p.m. ~ Site closed
Town Meeting: Let Your Voice Be Heard!
Saturday, August 20
Time TBD (1 Hour)
North Bridge Visitor Center

In January 1774 Concord residents were faced with some difficult decisions. A large quantity of tea was destroyed in Boston Harbor a few weeks before. Do they distance themselves from those "Sons of Liberty" who destroy private property? Or do they stand with them against the British government and accept the consequences? We invite you to debate revolutionary issues with Concord residents of 1774, portrayed by park staff and volunteers. The issues we will be discussing are taken from an actual Concord meeting warrant from that time. In the spirit of a New England town meeting, we will vote after debating each issue. Afterwards we will compare our votes with how the town voted in 1774.