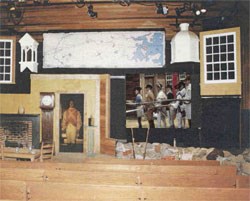 MULTIMEDIA PROGRAM (Free)
"The Road To Revolution"
Located at the Minute Man Visitor Center, this award winning, multimedia theater program gives an excellent introduction to the historic events of April 19, 1775.
Closed. November 1, 2018 - March 30, 2019
Shown every thirty minutes, 9:00 a.m. - 4:30 p.m.
Daily, April 1 - October 31, 2019
If you are bring a group of 15 or more people, we recommend you make a reservation for the multimedia presentation. Reservations are made online at recreation.gov. Be aware that while the multimedia presentation remains free to the public, groups who reserve the multimedia program through recreation.gov will be charged $1.50 per person.
RESERVATION POLICY - Please read carefully
Weekdays in April, May and June, and the last week of September - October, bus tours and other large groups are welcome to reserve any slot between 1:30 and 4:30 p.m. However, between 9:00 a.m. and 1:00 p.m. schools that have reserved the "Rebels, Redcoats and Homespun Heroes" ranger-guided education program take priority. No other groups may reserve those times.
Unscheduled groups who arrive between the times of 9:00 a.m. - 1:00 p.m. will be seated as space allows.

Ranger-led Battle Site Exploration: Parker's Revenge
Meet a park ranger at Minute Man Visitor Center and explore the site where Captain John Parker and the Lexington militia fought the British for the second time with far different results than the first! 30 minutes - FREE

---