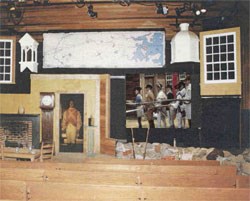 MULTIMEDIA PROGRAM (Free)
"The Road To Revolution"
Located at the Minute Man Visitor Center, this award winning, multimedia theater program gives an excellent introduction to the historic events of April 19, 1775.
Shown every thirty minutes, 9:00 a.m. - 4:30 p.m.
Daily, April 1 - November 4, 2017
Spring 2017 reservations are open. Be advised we have switched to an online reservation system. To reserve the multimedia presentation or a ranger-guided education program (which automatically includes the multimedia presentation) go to recreation.gov.
Also, be aware that while the multimedia presentation remains free to the public, groups who reserve the multimedia program (not including groups participating in the "Rebels, Redcoats and Homespun Heroes" ranger-guided program) through recreation.gov will be charged $1.50 per person.
RESERVATION POLICY - Please read carefully
Weekdays April 3- June 16, and September 25 - October 27, bus tours and other large groups are welcome to reserve any slot between 1:30 and 4:30 p.m. However, between 9:00 a.m. and 1:00 p.m. schools that have reserved the "Rebels, Redcoats and Homespun Heroes" ranger-guided education program take priority. No other groups may reserve those times.

Unscheduled groups who arrive between the times of 9:00 a.m. - 1:00 p.m. will be seated as space allows.
---